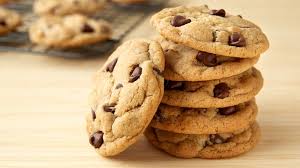 This week, we're sharing our recipe for the tasty chocolate chip cookies we serve in our chalets!
Chocolate Chip Cookies
Makes about 12
Ingredients
125g margarine, softened
100g light brown soft sugar
125g caster sugar
1 egg, lightly beaten
1 tsp vanilla extract
225g self-raising flour
½ tsp salt
200g chocolate broken into small chunks
Equipment and preparation
Preheat the oven to 180°C
Baking tray ungreased but lined with baking paper
Method
1. Preheat the oven to 180°C.
2. Cream margarine and sugars. Once creamed, mix in the egg and
vanilla extract.
3. Sift in the flour and salt then add the chocolate chunks.
4. Roll into walnut-sized balls.
5. Place on the baking trays lined with baking paper.
6. Bake for 8-9 minutes until just golden around the edges (they take less
time to bake than they look like they need!).
7. Take out of the oven and leave to harden for a couple of minutes before
transferring to a wire cooling rack.
Try not to eat them all at once!