Our Food
Our food is well thought out, dinner party style, freshly cooked and sourced. Where possible we use local butchers and bakers as well as offering a cheese board with locally sourced cheese.
Unlike some other companies we can cater for vegetarians, vegans and coeliacs with no extra charges.  If you have any other requirements please discuss before booking.  You must let us know before you travel (at least 3 weeks ) if you have any allergies and where possible we will ensure the allergen is removed.
Our children's menus are also freshly prepared and we use tried and tested menus from cooks such as Annabel Karmel.  We can cope with most allergies; again, please discuss before booking.  We make purées for babies, we don't offer jars of baby food, it's all fresh!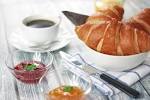 Breakfast – we offer fresh fruit, freshly delivered French bread, a selection of jams, yoghurts, cereals etc. for you to help yourselves to; there will also be sliced bread for those who like their toast! Our staff will be in the chalet from 7.30am offering fresh eggs, cooked to your liking – boiled, scrambled, fried or poached along with bacon and porridge. Fresh tea and coffee will also be brewing.  Please note in some of our larger chalets if everyone comes to breakfast at the same time it can be chaotic – a degree of patience may be required!
Children's lunch – for those booked into our childcare clubs – freshly prepared, hot and wholesome – great for hungry skiers.

Afternoon tea – when you return from skiing there will be a freshly baked cake or biscuits waiting for you with baguette and fruit as well as tea and coffee left out for you to prepare. First person back puts the kettle on!  For gluten-free guests we will provide a gluten-free option every day but please note that you may be served the same cake or biscuits more than once in a week.
Children's supper – usually served at 5.30pm – this will be a tried and tested two-course supper cooked by our cooks and based on wholesome freshly cooked ingredients – we do ask that parents supervise this meal but staff will be on hand to clear away.
Adult's dinner – what better way to end the day! – a glass of wine before dinner followed by our carefully planned three-course dinner party style supper menu.  Our menus are designed to appeal to everyone.  We can offer you vegetarian, vegan or coeliac options, please note that we do not charge for these but they must be booked before you travel to enable our staff to source the ingredients.  We offer delicious artisan cheese to finish. Canapés are another favourite early evening treat!
Dietary requests – if you or your children have any dietary requests these must be put in writing to us to enable us to let the staff in resort know and allow them to put these requests into practice.  Specific 'dislikes' for instance, no peas or carrots, are not considered to be valid requests.  If you have any questions please call us to discuss.  We can provide gluten-free cakes but you may have the same one again in your time with us.  Please note that we can source gluten-free bread in France as well as pasta, however gluten-free flour can be harder to come by.  We can usually source soy and goat's milk, soy yoghurts and dairy-free spread.  We cannot provide organic meat or vegetables.  We strongly advise you to bring gluten-free biscuits etc. as we may not be able to provide them.
Allergies – we take your health seriously and are aware of many allergies. We can cope with most but, you must put your requirements in writing to us to enable us to pass the information over to the staff in resort who will be preparing your food.  If you have any questions please do call us in advance, not the day before you go as it can be hard to source some items in France.
Our Wine
We offer a wonderful choice of 3 styles of red and white house wines that are sourced locally. It is of good 'quaffable' quality and is bottled, not out of a box into a carafe.
We offer wine before, during and after dinner – please feel free to drink it whenever you like.  We want you to enjoy it as much as we do!
We have a small supply of Champagne in resort for you to purchase if you have something to celebrate or even if you haven't!  You can pre-order before you leave, just call us.
We also offer a Euro bar, this includes beer, soft drinks, mixers, chocolate bars and handy snacks – the staff stock this themselves, Family Ski do not make anything from this, any profits go to the staff.