"Mummeeeee, I'm bored!" In this new series of blog posts, we share our favourite afternoon tea recipes that you can bake at home with your little ones to help you survive the summer holidays…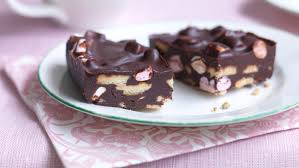 Rocky Road
Makes 24
Ingredients:
125g soft unsalted butter
3 tbsp honey
200g rich tea biscuits
2 tsp icing sugar, to dust
100g mini marshmallows (or cut up larger marshmallows using cold scissors)
300g best-quality dark chocolate, broken into pieces
Equipment and preparation
Baking tin approx. 24cm
Method
1. Heat the butter, chocolate and honey in a heavy-based saucepan over
a gentle heat.
2. Remove from the heat, scoop out about 125ml of the melted mixture
and set aside in a bowl.
3. Place the biscuits into a plastic freezer bag and crush them with a
rolling pin until some have turned to crumbs but there are still pieces of
biscuit remaining.
4. Fold the biscuit pieces and crumbs into the melted chocolate mixture in
the saucepan, then add the marshmallows.
5. Tip the mixture into a 24cm/9in square baking tin and smooth the top
with a wet spatula.
6. Pour over the reserved 125ml of the melted chocolate mixture and
smooth the top with a wet spatula.
7. Refrigerate for about two hours or overnight.
To serve, cut into 24 fingers, dust with icing sugar and try not to devour in one sitting!