When choosing the best way to get to the Alps with your family, travelling by rail should certainly be an option that you consider. It's a great way to get to two of our French resorts: Les Coches in the Paradiski and Reberty in the Three Valleys.
Eurostar runs a direct train service to the Alps, which departs London every Saturday morning around 9.30am and arrives in the Alps at around 6pm. From there it's a short transfer up to Les Coches from Bourg (20 minutes) or from Moutiers up to Reberty (40 minutes). You'll arrive in your chalet in time for the children to have their tea whilst you enjoy a glass of wine, and having had none of the hassle of airports or waiting around in various lounges and queues. It really does make a very chilled start to your holiday.
Board the train in London, then sit back and relax as you watch the urban skyline disappear. Soon you'll be in the Channel Tunnel then speeding through the French countryside watching the scenery change from a flat, green landscape to the the snowy, white peaks of the Alps. Booking seats with a table means you can sit and play a game with the family, or the children can do some drawing – or use the time to read, watch a film or even catch up with some work if you need to. There's a great atmosphere on board as everyone is in holiday mode, and looking forward to their holiday in the snow.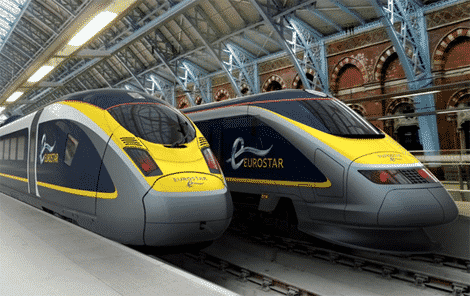 There is a buffet car which sells hot and cold drinks, plus food. Or stock up before you set off and enjoy a picnic on board. If you choose to travel Premier class, you will be served a meal and refreshments in your seat, all very civilised.
Advantages over flying:
No hanging around airports
No queues
More legroom
Get up and walk around, let the children stretch their legs
As quick or quicker than flying when you consider door-to-door timings
No weight restrictions on luggage
No charge for ski/snowboard carriage
Shorter transfer time
If the direct train is sold out (as it often is on peak dates) you still have the option of travelling to the Alps by train via Paris. Jump on the Eurostar from London St Pancras to Paris, Gare du Nord. From there you need to go to Gare de Lyon, which is very easy to get to – either by RER (metro) which only takes 15 minutes or you can pre-book a taxi. Then take the TGV down to Moutiers or Bourg. Watch a video here for further details on changing station in Paris.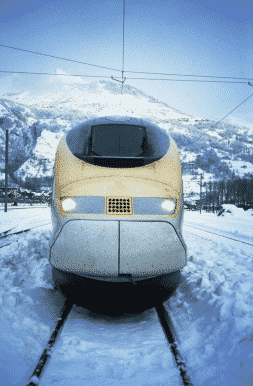 For our resort of Ardent in the Portes du Soleil, travelling by train is still a possibility. You can take the Eurostar to Lille, then it's a simple change of platform before taking another train to Geneva.
Child fares – under 4's can travel free though they aren't allocated a seat. For children up to the age of 11, there is a discounted child fare.
When looking into rail journeys to the mountains, you will also notice that there is an overnight train service. For families with young children we wouldn't recommend this route for a couple of important reasons. The first being that there aren't any beds or couchettes, the seats recline slightly but you won't manage to get a good night's sleep. Not an ideal start to your week in the snow. Secondly you will arrive in France very early in the morning – we're talking about 6am. We can't offer you transfers to resort this early, and we can't even make you welcome in your chalet because the previous week's guests will still be there, probably enjoying breakfast before they head home.
For further details on pricing and availability contact SNCF