You might initially think that taking a baby on a skiing holiday is just one of those things that can't be done. "We'll leave it 5 or 6 years you think, then our child can learn to ski". That's all very well if you are also happy to miss out on several years of skiing while you wait for your little one to grow up. And if you have one, two, three or more children then you could be in for a long ski drought. What a shame!  No matter what age your children are, you should be able to take your baby with you so that everyone in the family can enjoy the mountains.
Skiing with babies may seem like a daunting task, but with the right preparation and support, it can become a truly memorable experience for the whole family. At Family Ski Company, we understand the unique needs of families with little ones, and we're here to make your ski holiday with a baby an enjoyable and stress-free adventure. Join us as we explore how Family Ski Holidays can help you embrace the joy of skiing with your little bundle of joy.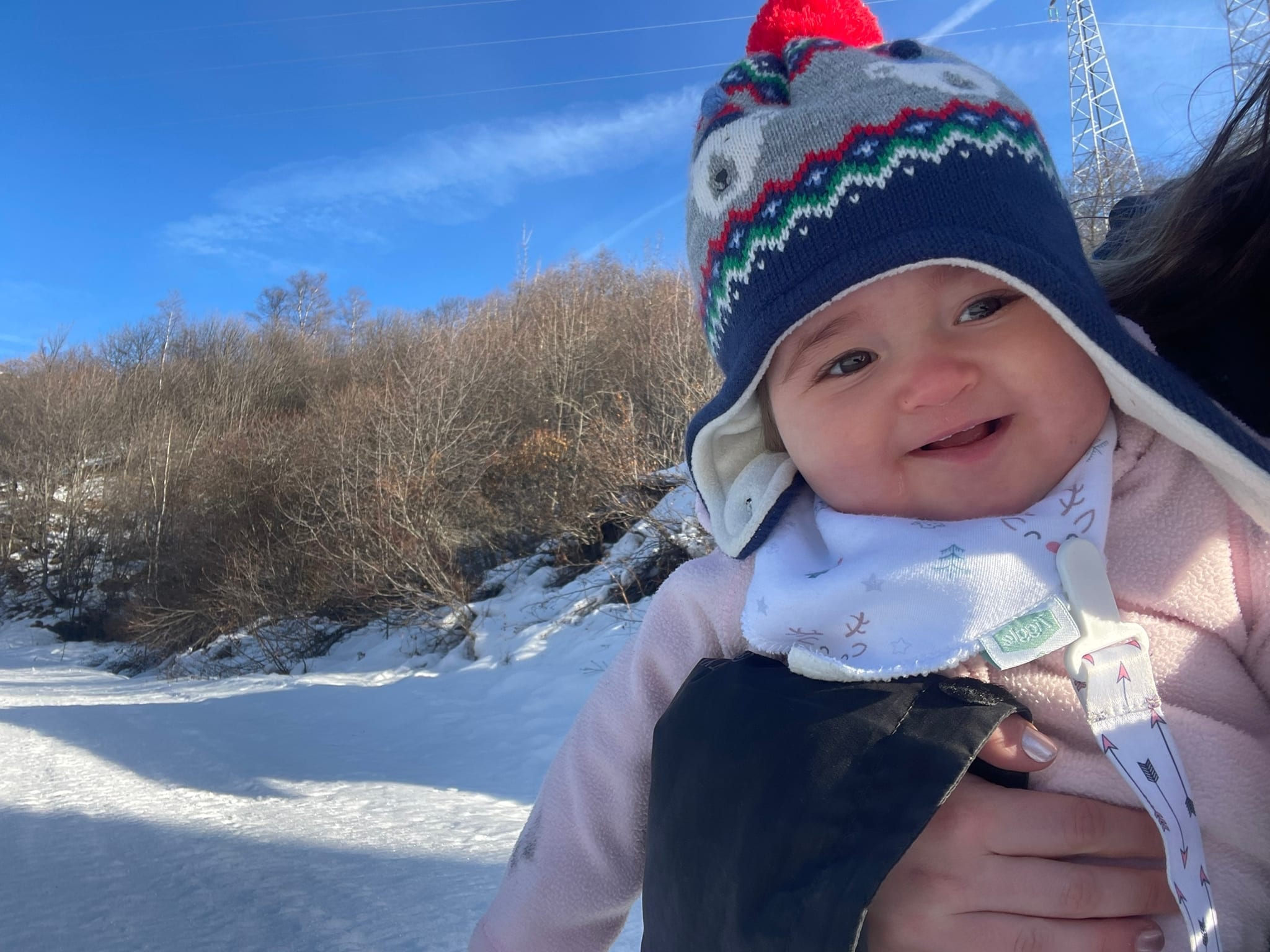 Family-Focused Accommodation and Resorts:
Choosing the resort should be done carefully. The main thing to be aware of is that babies can be affected by altitude. You won't have a great week if you have a grizzly, upset baby because you are staying in a high resort. Choose carefully!  Our resort of Ardent is just 90 minutes from Geneva, so is often favoured by families with babies as you will soon be settling into your new home for the week.
Choosing family-friendly accommodations is key when skiing with a baby. We offer  a range of chalets designed with your family's comfort in mind. With spacious living areas, separate bedrooms for peace and quiet, and all the necessary amenities, our accommodations provide a cosy home away from home for you and your little one.
We have a special baby menu so your cook will prepare fresh and tasty purees if needed –  nothing out of a jar, just home-made nutritious meals. Fresh whole milk is always available for you to help yourselves to, and you can of course use the microwave to warm up baby's bottle no matter what time of day or night. The chalet fruit bowl will hold a variety of tempting fruits and will be replenished throughout the week so you can encourage those healthy-eating habits even when away from home. The chalet itself is an ideal set-up for little children as you can put them to bed, and then enjoy dinner being cooked and served to you safe in the knowledge that if they wake up you won't be far away. Unlike staying in a hotel where they will probably be on a different floor and down the corridor, staying in a chalet is like being at home. And for peace of mind we have monitors in all the chalets which you are welcome to use. Another thing worth knowing is that we have washing machines and driers available for our guests to use in our chalets so you don't need to worry about bringing lots of spare clothes for your baby as we all know how many outfits they can get through in a day!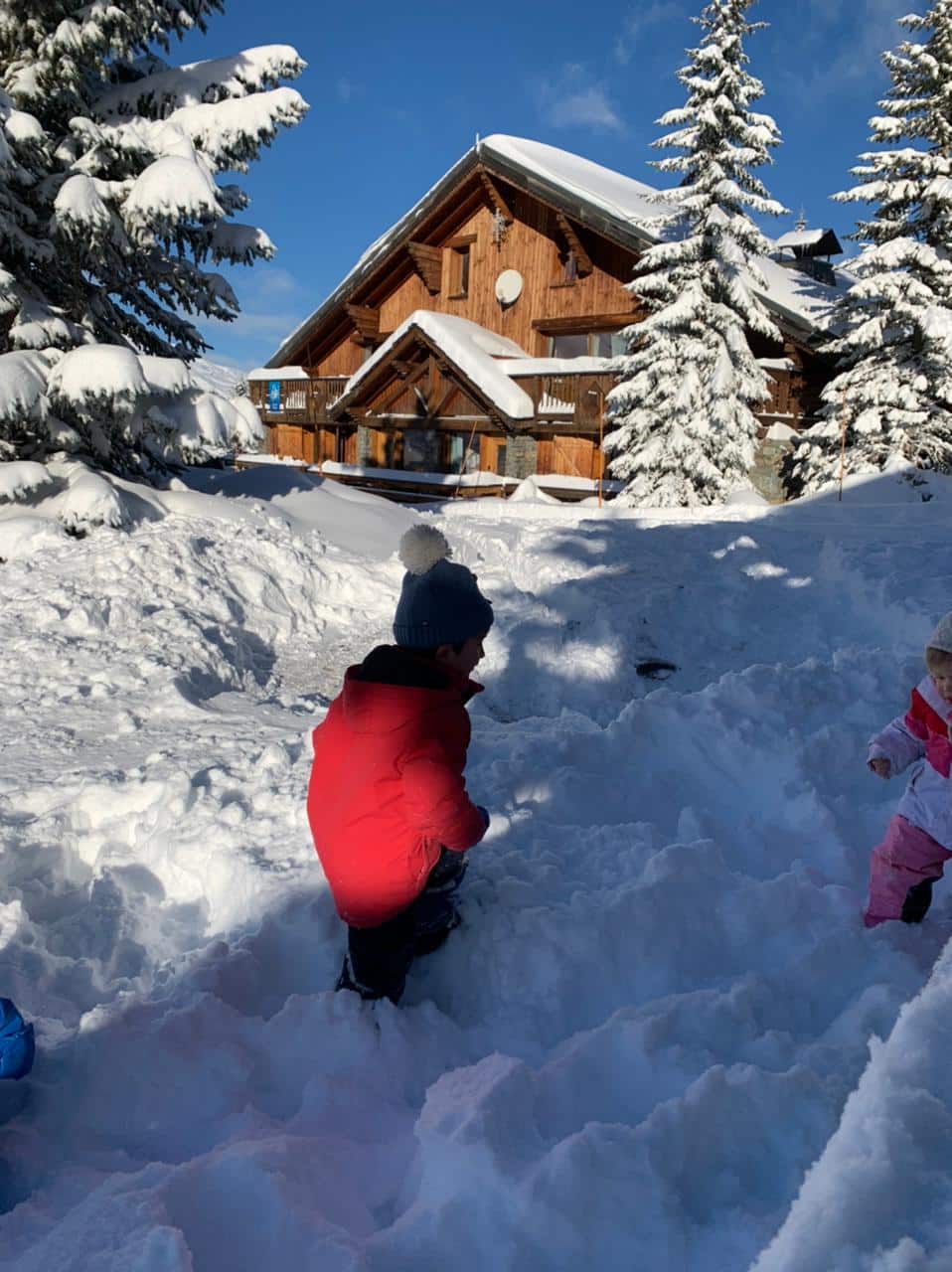 Baby Equipment at Your Fingertips:
It is probably the baby paraphernalia that makes you think twice before setting off on holiday with a baby in tow. Traveling with a baby often means packing a lot of gear. And you are right, but choose your Tour Operator carefully and you won't have to take any of it with you. How can such a small person need so much equipment? A truly child-focussed company will have chalets equipped with travel cots, cot linen, baby monitors, bed guards, potties, highchairs, liquidisers, sterilisers, baby and toddler crockery and cutlery, stairgates, changing mats and toys. Not to mention toys, games and DVDs are all available to keep your little ones entertained in the evenings. These items are provided as standard when we have young children booked into our chalets, and your chalet host will do everything to make sure that you have all the things you need. Worried about bulky, heavy nappies in your suitcase using up your baggage allowance?  Well, you don't need to.  We are now offering complimentary nappies and wipes in our chalets.  That will certainly free up some space in your suitcase for your ski wear.
Expert Childcare Services:
One of the biggest concerns for parents skiing with babies is finding reliable and trustworthy childcare. With Family Ski Company, you can have peace of mind knowing that your baby is in the hands of experienced and caring childcare professionals. Our expert team offers dedicated childcare, allowing you to enjoy your time on the slopes while your baby is well looked after. All of our staff are enhanced DBS checked and thoroughly trained. We are proud to say that our childcare team come from all backgrounds and all have different but relevant experience with children. From professional nannies, activity leaders from some of the EU's best activity centres, and those who are just super enthusiastic about childcare. We've even had school teachers working for us over the years.
We always meet OFSTED ratios for childcare and often exceed their recommendations. This allows us to provide quality childcare that can adapt to the needs of each individual child.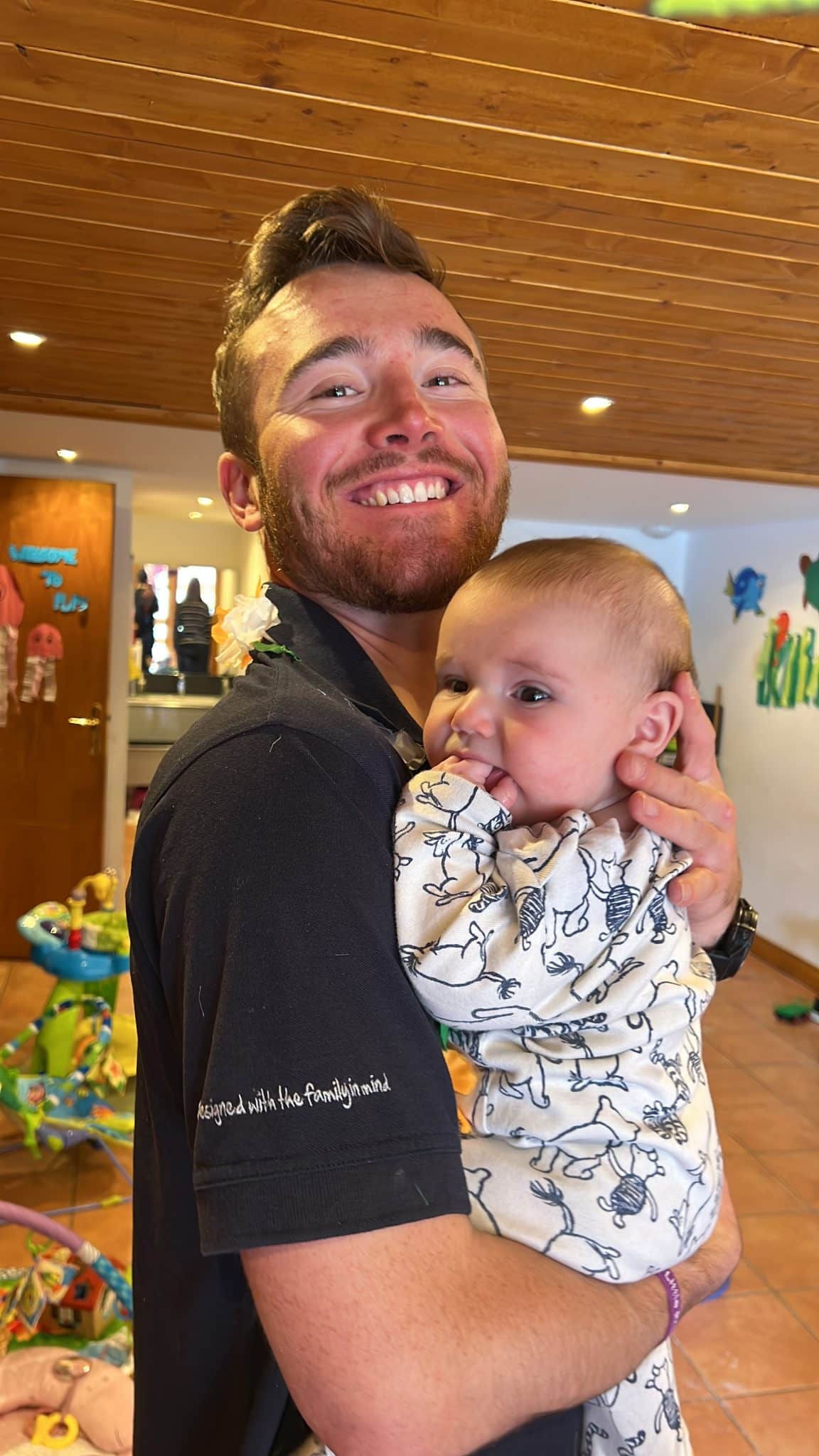 Tailored Ski Lessons
Family Ski Company understands that skiing is a family affair, even with a baby in tow. That's why we offer tailored ski lessons for parents, allowing you to hit the slopes and improve your skills while your little one is taken care of. Our ski school helpers can assist with childcare during lessons, ensuring you have the opportunity to enjoy your time on the mountain worry-free. We will even send you regular pictures and updates throughout the day to let you know how your little one is getting on.
Supportive Community:
When you choose a Family Ski Holiday, you become part of a supportive community of like-minded families. Connect with other parents who have embarked on skiing adventures with their babies and exchange tips, stories, and experiences. Our shared dining, and home away from home ethos helps create a welcoming atmosphere where lifelong friendships can form. We often have families who met for the first time on one of our holidays, coming back together year after year with the people they shared their Chalet with on their first trip.
Skiing with a baby doesn't have to be overwhelming. At Family Ski Company, we provide the perfect solution for families looking to embrace the joys of skiing while ensuring their baby's comfort and safety. With family-focused accommodations, essential baby equipment, expert childcare services, tailored ski lessons, and a supportive community, Family Ski Company is your partner in creating unforgettable memories on the slopes.
Book your Family Ski Holiday today and embark on a winter adventure where skiing with a baby becomes a breeze.