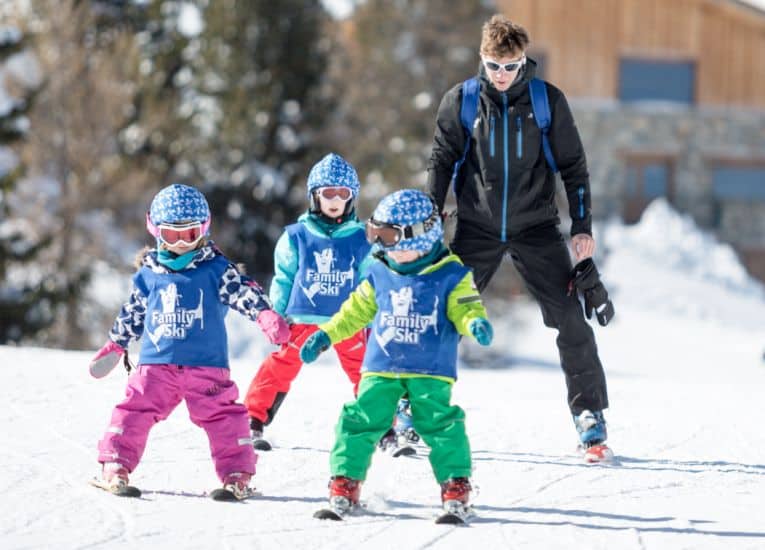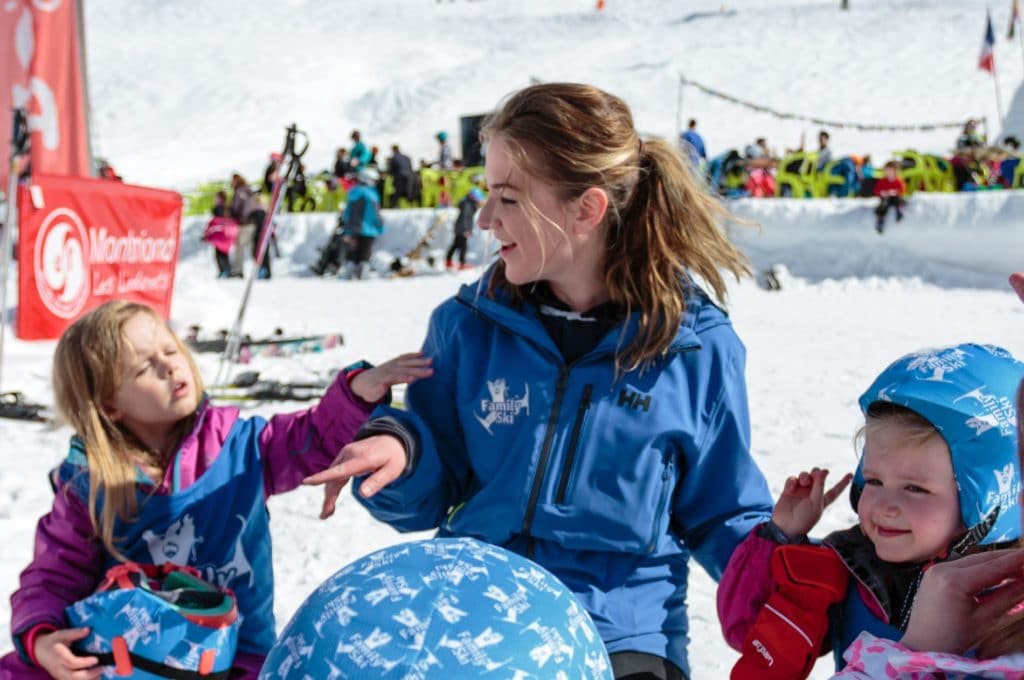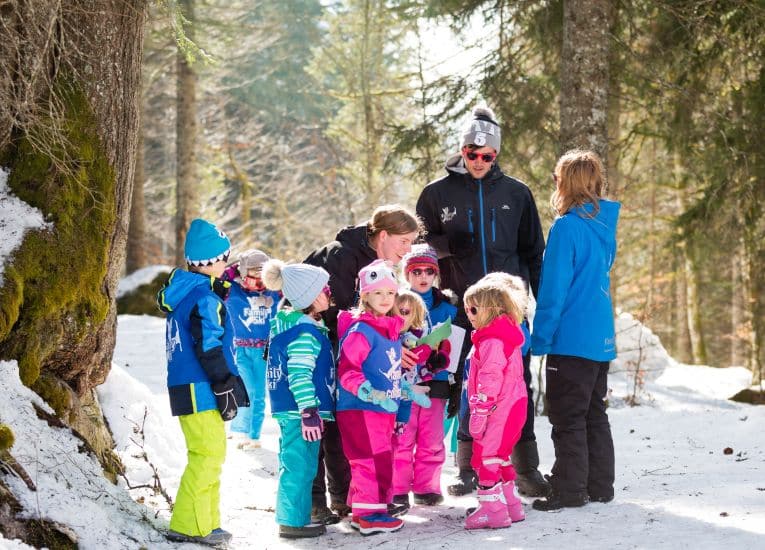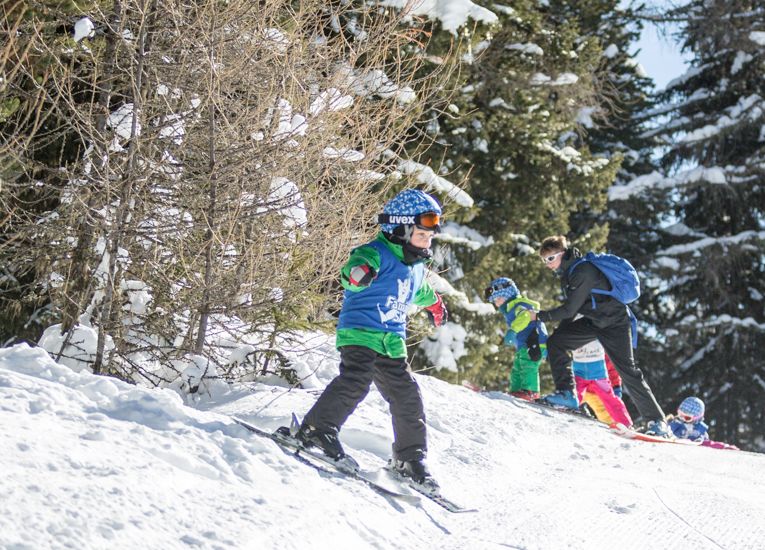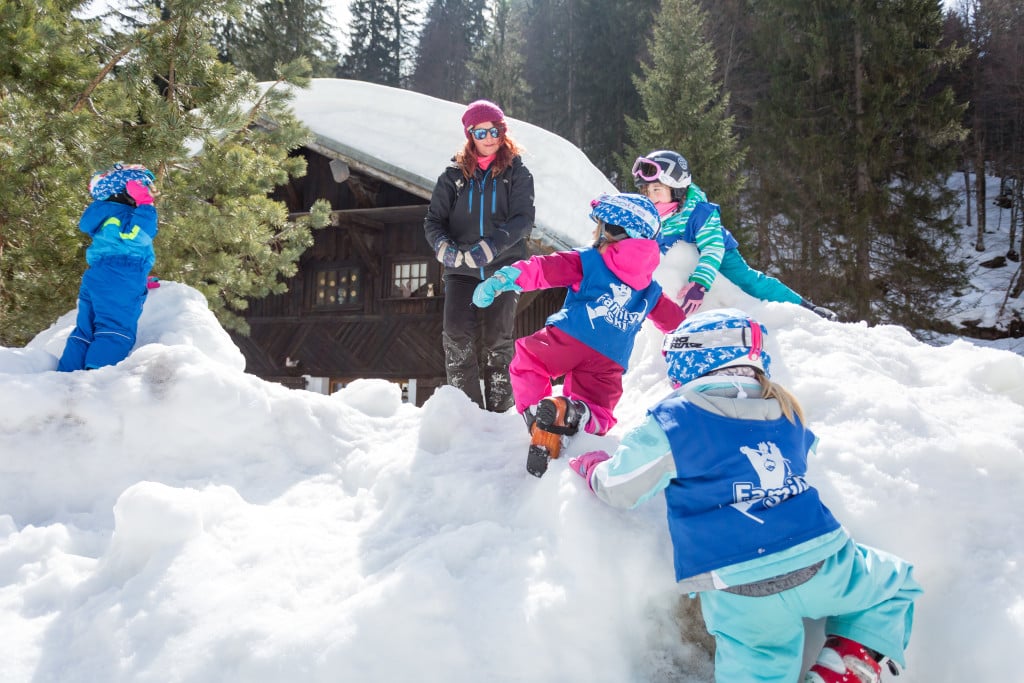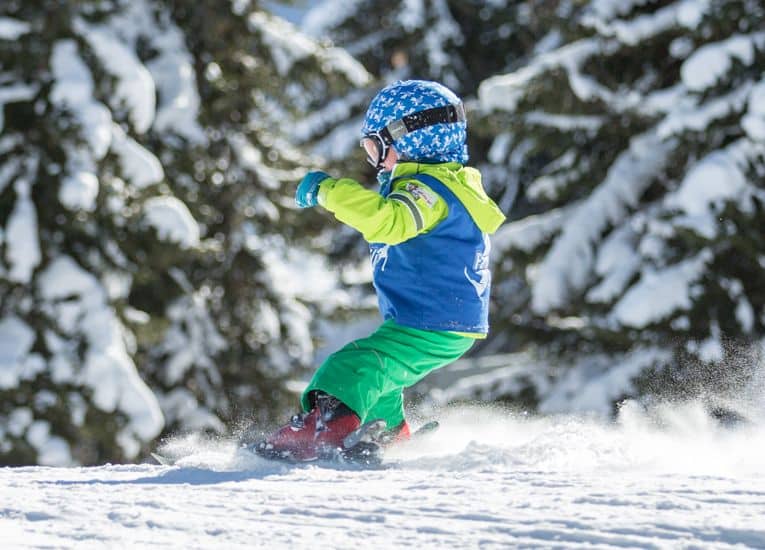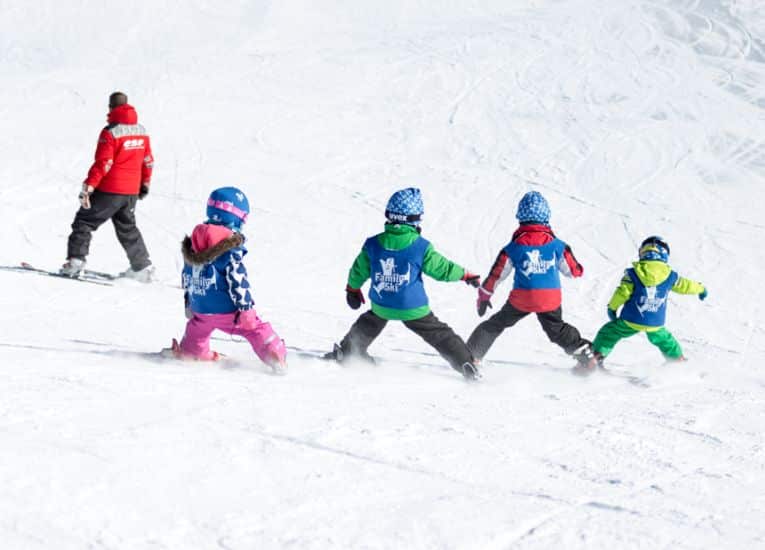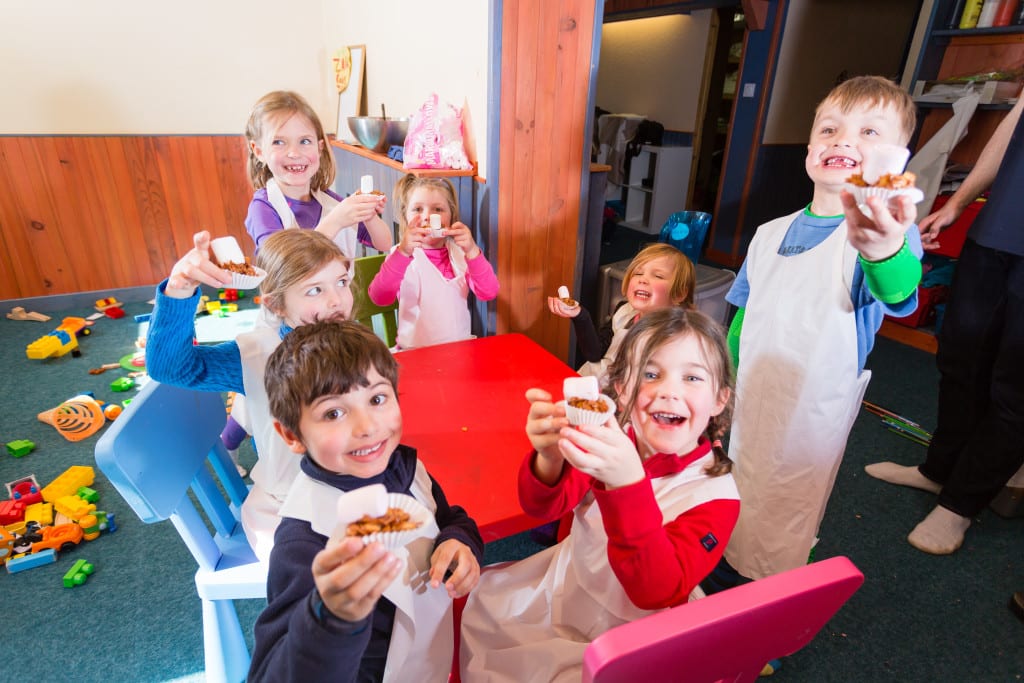 Powder Hounds Club (children aged 4-6 years)
Looking for children's ski lessons? Try the Family Ski way to get your kids skiing and have a great family holiday!
Six mornings of ski school lessons with the Ski School

Staff waiting to meet children from their lessons

Ski School Helper based with the youngest skiers to assist in the mornings and get feedback from instructors

Hot lunch each day

Fun-packed childcare activities on six afternoons including tobogganing, treasure hunts, snow games as well as arts and crafts and chalet-based activities

Childcare until 4.30pm, six days a week

All staff DBS checked, fully trained and insured

23-24 Price: £669
---
You have the options of taking:
Full Childcare
Ski Lessons and Lunch
Lunch and Afternoon Childcare
Morning Ski Lessons
What we offer
The club includes 6 mornings of ski school with the ESF and is inclusive of all ski abilities from beginners to gold.
Hot, simple lunches on 6 days designed to be child friendly and balanced. Ranging from; pasta and pizza to fish and chips or warming soup and sandwiches, always accompanied with fresh fruit/ veggies
6 afternoons of fun filled activities
Activities until 4.30pm, 6 days a week with your children dropped back off at your Chalet
Our Ski School Helper will be based in the Ski Garden to help and encourage our youngest or least experienced guests to get skiing
How does my child get to their morning lessons? When do I pick up my children?
It is the parents responsibility to get their children to the Ski School for 9/9.15am each morning. (Timings may vary in resort, but our team will inform you of this on your first night)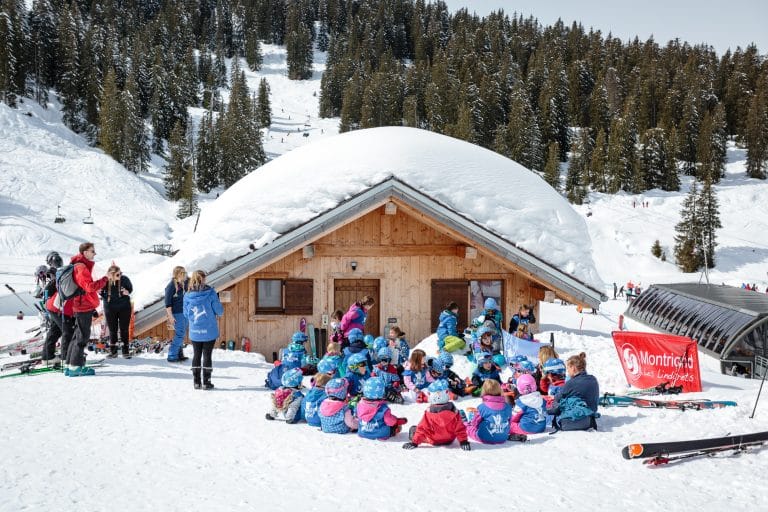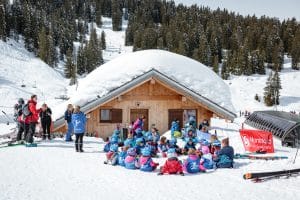 Ski school at the top of the Ardent télécabine
In the afternoons, your children will be dropped back off to their chalets for 4.30pm, so please make sure you are back to meet them.
What if I want to ski with my children on some days?
If you wish to ski with your children on just a couple of afternoons, and not the full week, then you must book them into Full Childcare.
You are then more than welcome to come and collect them from their lunch and take them out for the rest of the afternoon, either skiing or to one of the non ski related activities in the surrounding area –Ardent, Reberty, Les Coches (Providing that you have prearranged this with the childcare team for your resort)
We have to have the children booked into full childcare to be able to do this as we cannot guarantee that we will have space in the childcare clubs should you wish to upgrade during the week to include afternoon care.
What are my children doing in their afternoon activities?
On all 6 afternoons your children will be taken out for some great fun filled activities. We have lots of different activities on offer, these will vary week by week depending on age and ability as well as resort and availability. These activities include but are not limited to :
Ice Skating
Treasure Hunts
Fun Parks
Sledging
Winter Olympics
Snowman and Igloo Building
Gruffalo hunts
Hot Chocolate trips
Trampolining
Baking
Crafts
Painting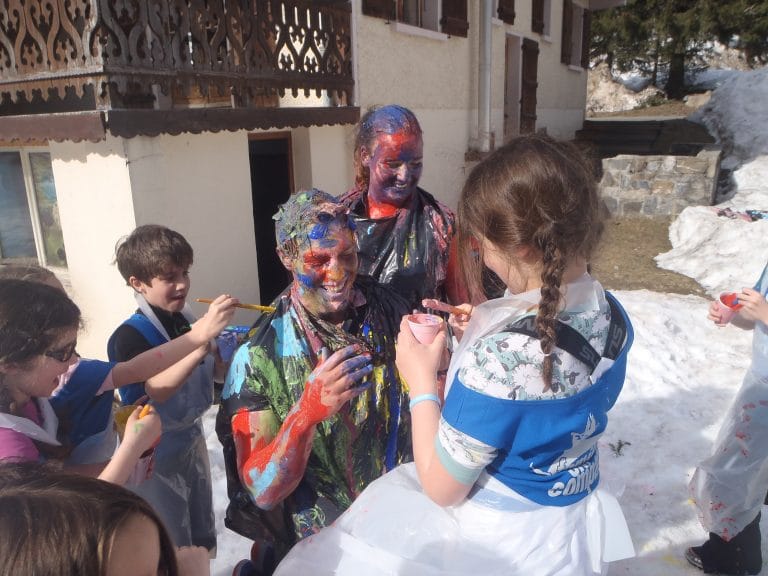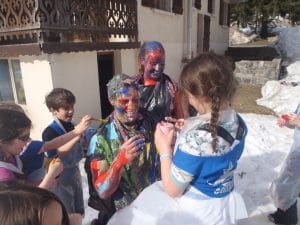 Will my children spend most of their afternoons in the childcare den ?
The majority of your children's afternoon activities will be outside. As a child, even the sight of snow is magical and exciting, and as we all know the UK isn't the best for snow, and any activity will never be as good as it could be in the mountains (unless you like snowball fights with yellow slush). That is why we aim to have as many varied outdoor activities as possible so that children can experience as many snow/winter games and excursions as possible. If the children are exhausted or the weather is particularly bad we will retreat to the den for some more relaxed practical activities. We like to try and keep the kids as active as possible.
Can my child ski in the afternoons ?
We don't offer afternoon skiing for our Powder Hounds club like we do in the adventurers. Over the 25+ years we have been operating we have found that morning ski lessons are enough for our youngest skiers. Skiing can be tiring for the best of us, now imagine your little one, on the slopes for the first time, stuck in those weird things called boots and skis and scraping themselves off the snow, a lot!  It's tiring and can seem relentless. So, more relaxed winter activities suit children of this age much better.
You are more than welcome to come and collect your child after lunch, and take them out in the afternoons if you want them to have a bit more practice with you. This must be prearranged with our childcare team (you can let them know in the morning when you drop them off at ski school)
How will I know if my child's ski ability is progressing?
On 3 evenings before their ski test on the Friday, a member of our team will give feedback to the individual family on how your child is progressing in ski school, and about any challenges that might have been encountered during the day. Our ski school helpers will also hand out badges and certificates on the Saturday after they have taken their ski school test, and this is great fun for all the family.
My children are all different ages, will they see each other during the day ?
Our childcare clubs are grouped by age to ensure each child has a schedule tailored to their energy levels and ability, so it's unlikely the different clubs will spend much time together during the day as they will be out and about doing different activities. Our childcare staff are excellent at helping all children to build friendships with other children in their club. Morning ski lessons with ESF are grouped by ski ability so if your children are the same ski level, they may be in the same group lesson. However, this isn't guaranteed as in popular weeks ESF may also group the same level children based on age/strength and one child may progress at a different speed to another. In Les Coches there is one childcare den which is shared between the 3 childcare clubs. So on some afternoon activities they may overlap, but as the clubs offer different activities dependent on age  (Adventurers skiing in the afternoon on 3 days) there is no guarantee that they will be together.
Can I change which level of childcare I have chosen whilst in resort?
Whilst we would love to say yes, we may sometimes be limited by operational constraints. Our childcare places can fill up very quickly, and there might not be space for your child should you wish to upgrade in resort. Should you think that you might want to have a few afternoons to yourselves, you must organise full childcare for the week so that you have the choice to take them out as you please and you have the security of knowing they have a place in childcare guaranteed every afternoon.
Watch our Childcare videos.
Find out more about Children's Ski Lessons.