By Car, Plane or Train?
There are a number of ways to travel to the Alps to suit your family and individual requirements, this page has been designed to help you choose the best way for you. By Car, Plane or Train?
Check out our Family Ski Transfer Service page too!
Travelling to resort by train
When choosing the best way to get to the Alps with your family, travelling by rail may be an option. Why not combine it with an overnight stay in Paris on Saturday night, to break up the journey.
This could be a very nice way to start your family holiday, and it has the added advantage that you can arrive earlier in your resort on Sunday, to make the most of your time in the Alps.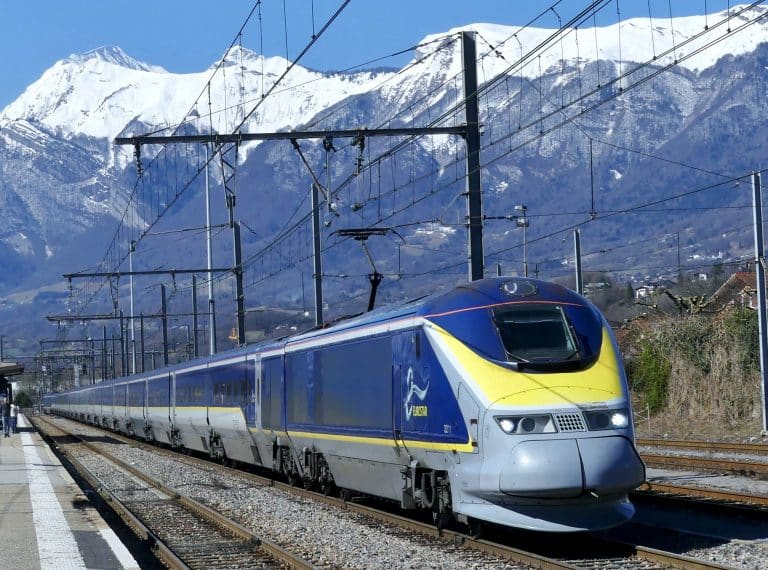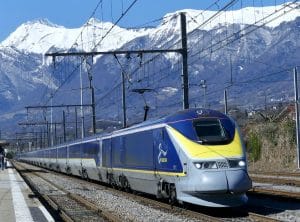 Advantages of travelling by train:
You can relax, watch the countryside roll past, and arrive feeling fresh
No extra charges for skis/snowboards or for extra luggage
Possibility of including an overnight stay in Paris on the way out
Under 4's can travel free though they aren't allocated a seat.
For children up to the age of 11, there is a discounted child fare
Very short transfer times
(Train timetables will be published around October half term for the coming season, however from experience they are always within +/- 7 minutes of previous years)
Getting there
Jump on the Eurostar from London St Pancras to Paris, Gare du Nord. Eurostar has trains nearly every hour on Saturdays and Sundays.  The most popular service departs at around 8am, arriving in Paris Gare Nord at around 11:17am.
We recommend an overnight stay in Paris on Saturday night, and then catching one of the Sunday morning trains from Paris Gare du Lyon.
If you are travelling in one day, allow an hour for the change from Gare du Nord to Gare du Lyon. To speed things up, you can buy the RER metro tickets from the bar on the Eurostar.
Watch a video here for further details on changing stations in Paris.
For Reberty 
TGV trains depart at around 7am, 8am, 9am, arriving in Moutiers (for Reberty) around 12.30pm, 13:30pm and 14:30pm.
The stations are close to our resorts, resulting in a much shorter transfer to your chalet, approx 45 mins from Moutiers to Reberty.
For Ardent 
Take the TGV from Paris Gare du Lyon to Geneva. The train departing at around 08:15 is fast, arriving at around 11.30am. Departures every 2 hours thereafter.
You will need to catch an additional train or Uber to Geneva Airport. Then make your way to the Airport Arrivals hall (nearby) where you can catch one of our included transfers to the resort. Your train needs to arrive by 4pm, in order to make our last transfer at 5pm. Geneva to Ardent is 1.5 hours.
Returning from the Alps to London St Pancras
Our free transfers can get you back to the same stations for trains departing on Sundays after 8am and before 5pm.
There are direct trains to Paris, and then you change stations from Gare du Lyon to Gare du Nord to catch the Eurostar back to London.
To book your trains we suggest you contact Fas from Trains Europe, he is really helpful and his contact details are: 
Site: trainseurope.co.uk   Email:  fas@trainseurope.co.uk   Tel:  01354 660222
Or you can contact Oui SNCF or Eurostar for more details.
Please click here for more info on our free transfer service to and from these stations.
We recommend allowing at least an hour and a half to two hours to change between trains at Paris Gare du Nord and Paris Gare du Lyon, which is about 20 minutes on the metro or about 20-25 minutes by Uber.
Travelling to resort by car
What are the Benefits?
The Journey. You can make the drive itself a holiday. If you're travelling with family and friends, its a fantastic opportunity to explore some truly beautiful areas of France. You can plan stops on the route to major cities like Paris, Dijon or Lyon, take a detour to more remote areas of France you may otherwise not have visited or pop into Belgium or Luxembourg before you make the rest of the drive.
Cost. If you're driving with two or more people, then it can save you a lot of money. The prices of Eurotunnel tickets are per vehicle, so costs are significantly lower, and even with rising fuel prices, it can still be cheaper to drive the whole family than to buy individual plane tickets. You still have the costs of getting to the airport on top of the tickets as well.
Flexibility. When you get to resort, having a car gives you the freedom to indulge in other activities offered in your area with greater ease. There's also no rushing around in the morning, your flight might depart without you, but your car won't.
No baggage limit. Yep, no need to wear every item of clothing you own to avoid the dreaded 20kg baggage limit. You can take what you want, including your skis without having to pay anything extra because your bag doesn't fit in the tiny hole they allow for cabin bags

A bit more leg room. 
Estimated Driving Times
Ultimately, it depends on where you are driving from, the routes you take (direct using toll roads or the slower free scenic routes) and whether you're taking the Ferry or Eurotunnel. Below are the travel times from Calais to our resorts taking the fastest routes, not taking into account stops and breaks.
Calais to Ardent 879km, 8hrs 30 Minutes
Calais to Reberty: 968km, 9hrs 10 Minutes
LEGAL REQUIREMENTS!
It is now mandatory to carry certain equipment whilst driving in Europe. You must have: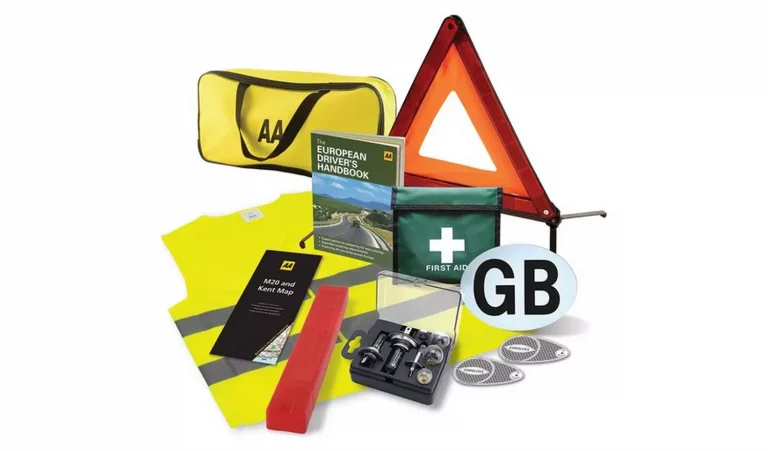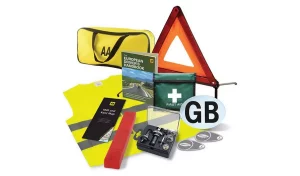 A GB sticker
A Warning Triangle
A Headlamp Converter
A High-Vis Jacket- for each person in the car.
Snow Chains for when there's snow on the road
Fire Extinguisher
First Aid Kit
All of these items can be purchased from Halfords, Amazon, the AA or onboard the ferries.
Parking
Ardent – There is ample parking in Ardent, you can park right alongside all of our Chalets. If those spaces are filled up, not to worry, the car park in Ardent is free, and a short distance from the chalets. Most guests are happy with with these easy options, but if you want to park undercover, then your best option is in Morzine, there are 3 covered parking areas, with the largest holding 181 cars. Note there is a height limit of 2.1m. You can then catch the free bus back up to Ardent. ( Link to parking in Morzine
Reberty – Family Ski Company has spaces allocated in a private underground car park situated between Chalets Genevieve and Chalet Claudia, and we recommend that you prebook a car park space with us if you are driving as soon as you can as there are limited spaces. Parking elsewhere in the village is limited and on a first come first serve basis. There is also street parking is available for free on the road outside the village, but as this is unsheltered, you may be digging your car out at the end of the week. Don't worry if that is the case we will give you a helping hand if we can.
Electric Charging in resort
Ardent – There are a couple of options in Morzine:
75 Taille du Grand Mas – two charging points.
Palais des Sports – two charging points.
Reberty – There are charging stations at:
Freshmile Charging Station (9 min drive)
Les Belleville Charging Station (4 min drive)
Directions
Click here to download directions to each resort.
Useful Links
For more detailed information, please take a look at our Driving to the Alps blog
Travelling to resort by plane
You have the flexibility to choose your own flights and travel from your local airport at a civilised time of day – not daft o'clock departures from just one London airport offered by many operators – not a good start to any holiday especially with children.
There are many low cost airlines offering convenient flights to Geneva from all over the UK, we have supplied links below to help you choose flights and book tickets.
We offer a meet and greet service at Geneva – transfers are included, flights are not.  We can book private transfers from Chambery and Lyon (at your own cost).
For more information about our Family Ski Transfer Service from airport to resort please click here.
To make finding flights easier, we have created a flight guide.
Flights to Geneva:
For flights to Geneva the below links may help you choose and book flight tickets.
Easyjet (Belfast, Birmingham, Bristol, Edinburgh, Manchester, Glasgow, Liverpool, London Luton, London Gatwick, Newcastle, Leeds Bradford, Stansted and Southend)
British Airways (London City, London Gatwick & London Heathrow)
Swiss Air (London City & London Heathrow)
Jet2 (Belfast, Birmingham, East Midlands, Edinburgh, Leeds Bradford, Manchester)