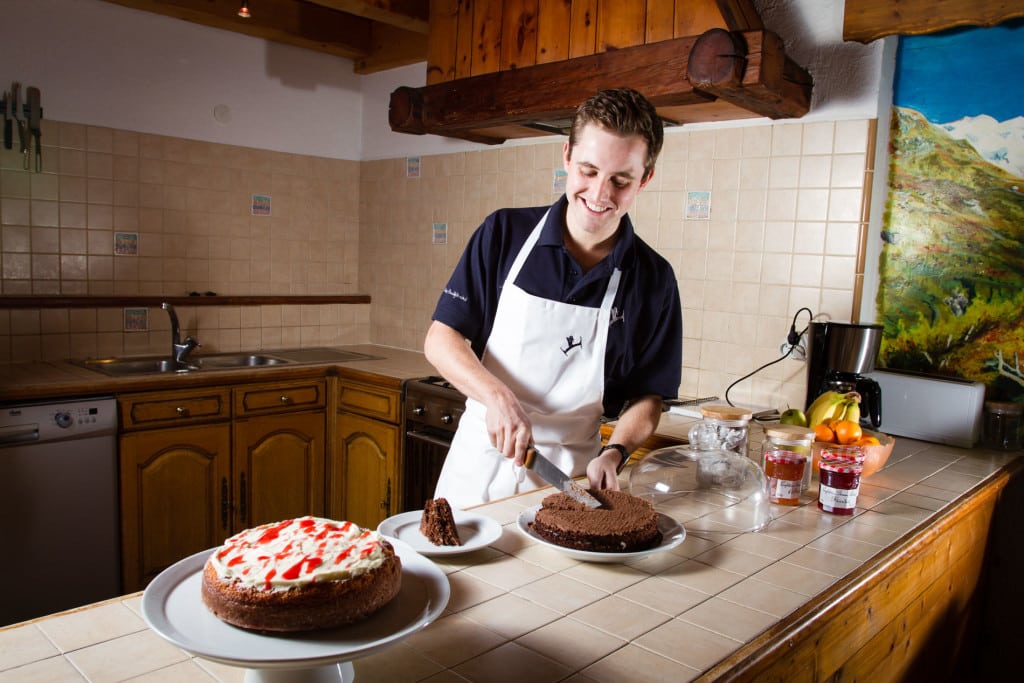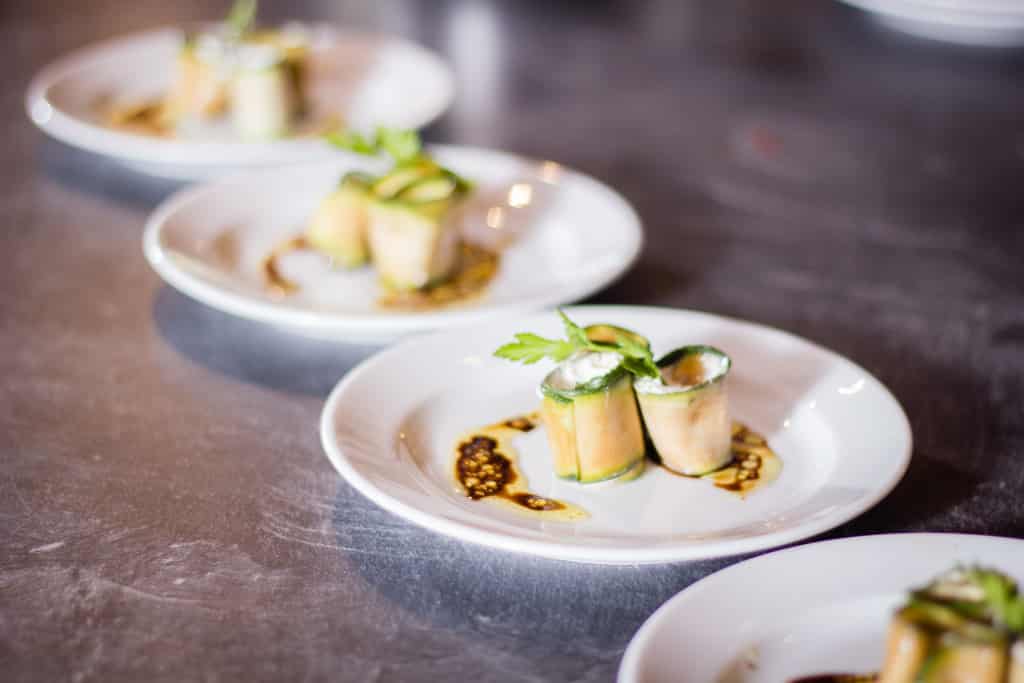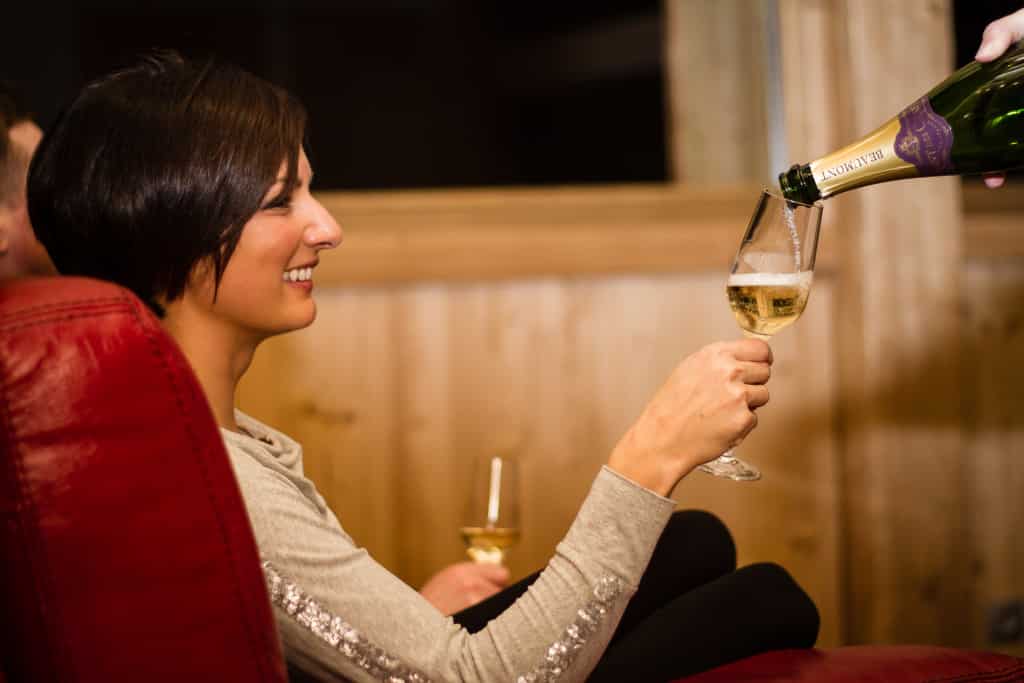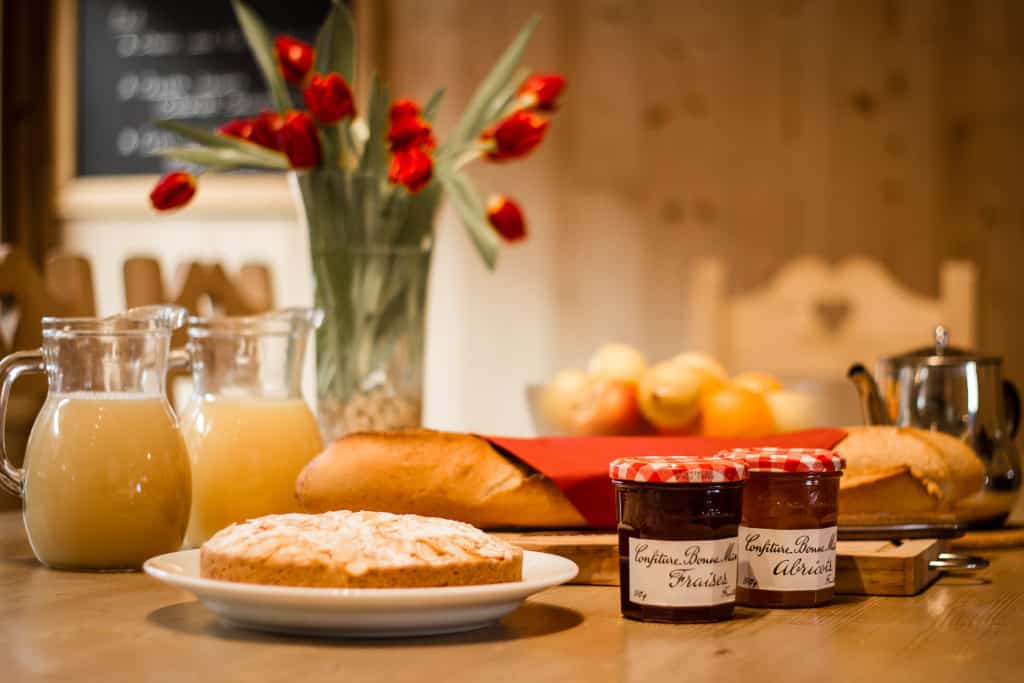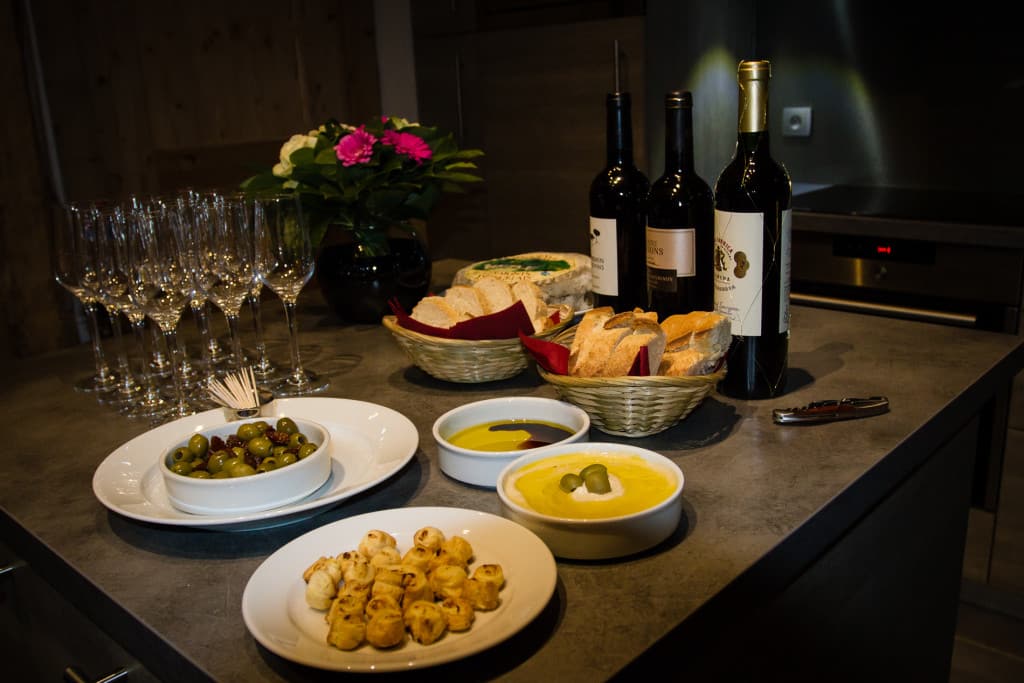 Food & Wine
Food and wine is an important aspect to any holiday and we pride ourselves on providing good quality food and wine for you to enjoy. Bon appétit!
Our Food
Our food is well thought out, freshly prepared and cooked in the chalets on 6 evenings.  Where possible we use local butchers, bakers and greengrocers and we offer a cheese board with locally sourced cheese. We can provide vegetarian, vegan and coeliac options at no extra charge but they must be booked 2 weeks before you travel.  If you have any other requirements please discuss before booking. We continuously refresh our menus and this season will see some exciting changes.
Breakfast – In our larger chalets a member of the chalet team will prepare fresh eggs, bacon and porridge. Fresh French bread, a selection of jams, yogurts and cereals is also available for you to help yourself to, alongside freshly brewed coffee and tea. In our smaller sole occupancy chalet (Chalet Camille) breakfast is self-service with the same delicious options available – and again with no clearing or washing up as your chalet host will do this!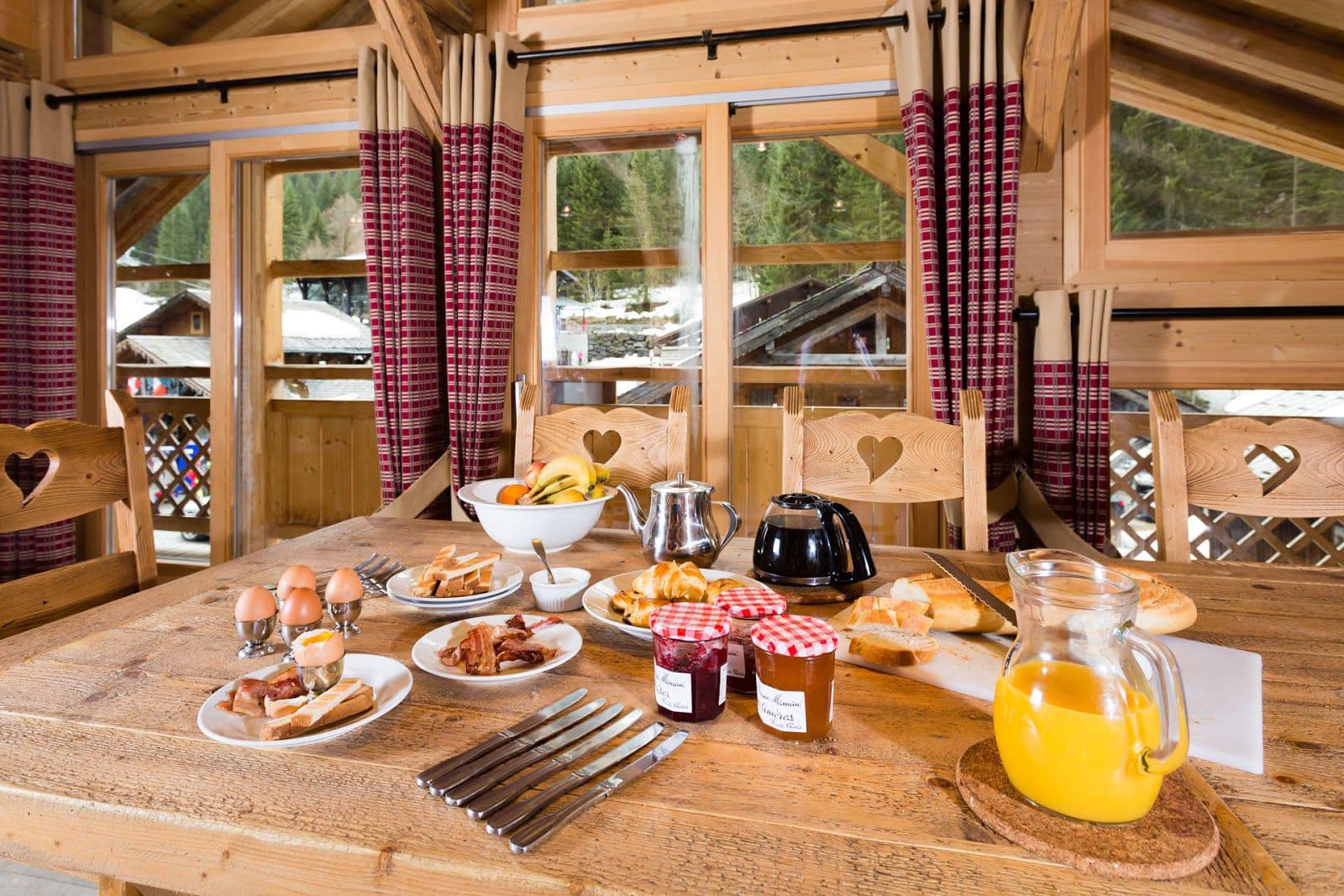 Children's Lunch – Lunch is an opportunity for adult guests to try the fabulous piste side offerings whilst for those children booked into our childcare clubs there is hot and wholesome food included.
Afternoon Tea – When you return from skiing there will be a freshly baked cake or biscuits waiting for you with baguettes and fruit as well as tea and coffee left out for you to prepare.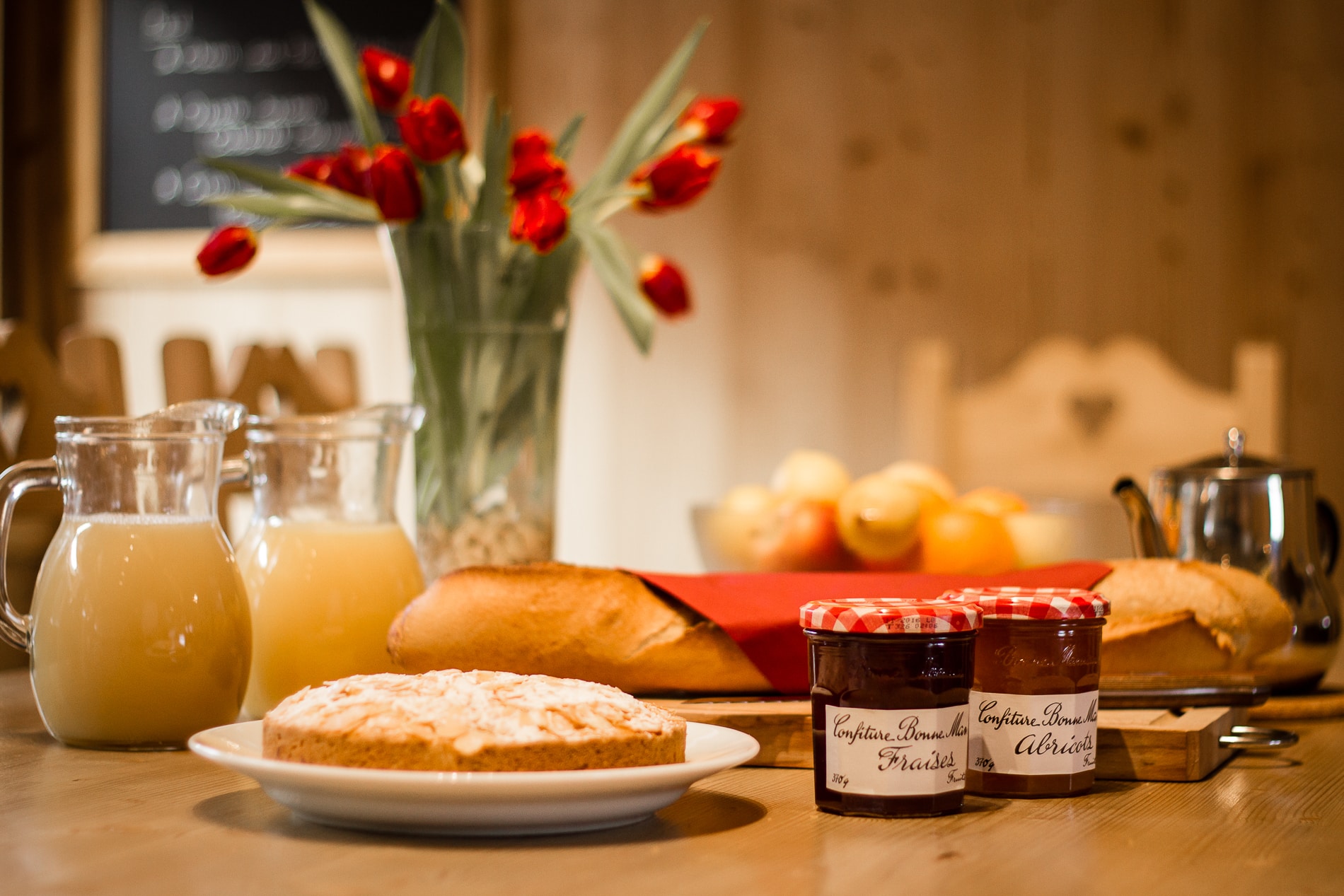 Children's Supper – Our children's menus use tried and tested recipes from cooks like Annabel Karmel and Rachel Allen. We make pureés for babies, it's all fresh – not from jars! Children's supper is usually served at 5:30pm and is a two-course meal prepared using wholesome freshly cooked ingredients – we do ask that parents supervise this meal but staff will again be on hand to clear away.
Adult's Dinner  – Our delicious adult three course evening meals are served from 8:00pm designed to appeal to everyone. Canapés followed by a dinner-party style starter, main and dessert with a cheese board available for those with a hearty appetite, all served with unlimited red and white wine options.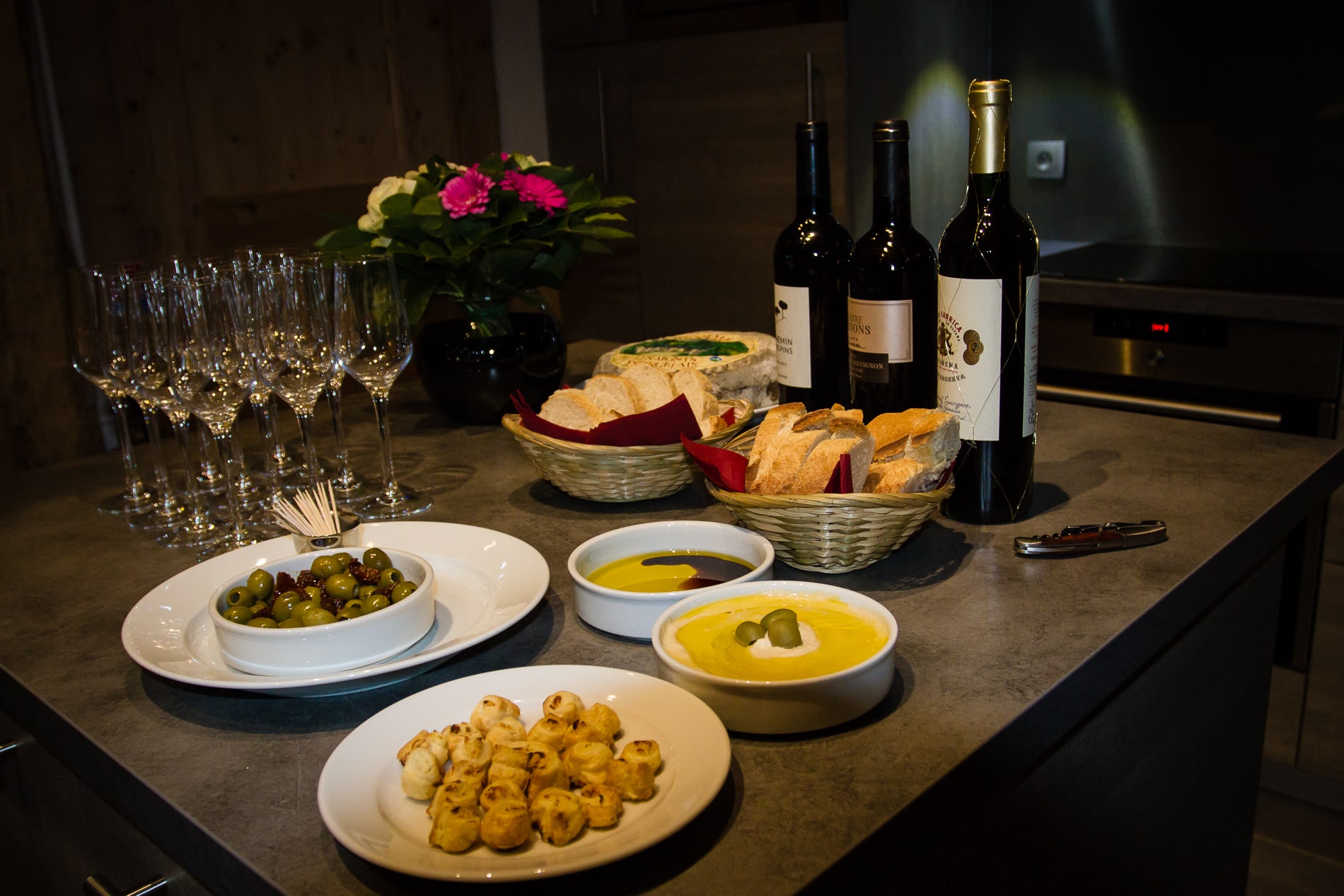 Family Food Option – In our smaller sole occupancy chalets ( Rulens, Camille) guests have the option of either the above separate evening dining or the option of eating together a delicious meal of canapés, freshly prepared homely style main and comforting desserts. Example main courses include hearty and healthy cottage pie, roast, vegetable stir-fry, and home made burgers. Desserts include tarte tatin, brioche bread and butter pudding and cheesecake. The Family Food option is served 6:00-7:00pm along with the same selection of high quality wines for adults.  This option must be pre-booked at least 2 weeks before travel for one or two families in the above chalets only. Unfortunately we can't offer this option in the larger shared chalets due to seating and service constraints.
Cook's Night Off – Our hard-working chalet cooks receive a night off midweek. Families can eat together at a choice of local restaurants or parents can enjoy an evening out, with babysitters available to look after your children in the chalet with a pre-ordered takeaway.
Allergies – We take your health seriously and can cope with most allergies, but you must put your requirements in writing to us to enable us to pass the information over to staff who are preparing your food. If you have any questions please do call us in advance as it can be difficult to source some items in France.
Dietary Requests – If you or your children have any dietary requests these again must be put in writing to enable us to let the staff know in resort. Specific 'dislikes' for instance, no peas or carrots are not considered to be valid requests. We can provide gluten free cakes and pasta, and we can usually source soya and goat's milk, yogurts and dairy-free spread.
You can view samples of our menu below, we hope it whets your appetite.
View our sample Adult's Menu
FSC Adult Menu
View our sample Vegetarian Menu
FSC Vegetarian Menu
View our sample Children's Menu
FSC Child Menu
View our sample Family Menu
Our Wine
We offer a choice of wines that are sourced locally but we include wines from beyond France where their quality merits it. We use our buying leverage to increase quality rather than drive down cost. All is bottled and definitely not out of a box into a carafe. We offer wine before, during and after dinner – please feel free to drink it whenever you like. We have a supply of Champagne and Prosecco to purchase if you have something to celebrate or even if you haven't. Every year we carry out a (very popular) taste test and we have some great additions for this season. A few Vivino reviews below reinforce our quality-driven approach.

We also offer a euro bar, this includes beer, soft drinks, chocolate and handy snacks – any profits go to the staff.
2023-24 Wine Selection
All wines are normally available in all chalets though there might be times when this is not the case.
White
Horgelus Colombard-Sauvignon, Cotes de Gascogne, France – We are still unable to fault this wine. A lovely mid-weight blend of the Sauvignon and Colombard grapes from the southwest of France, packed full of pungent zingy aromas – lemon, lime, tropical fruit.
Marechal Apremont, Vin de Savoie Apremont, France –  A quality Savoie wine!  Locally produced and typical of the Savoie style – dry, floral and mineral with zippy acidity to hold everything together.
Birgi Tre Venti Grillo, Sicily, Italy – Refined and with a wide bouquet with a distinct nose of white peach. Elegant and long lasting.
La Foule Chardonnay 2022 Languedoc-Roussillon, France – Deep and bright gold in colour, complex and expressive. Aromas of ripe pear and quince, followed
by elegant hints of vanilla. This wine is well balanced, with subtle toasted oak character and not too strong at 12.5%
Mandolare Menini Soave, Italy – Easy-drinking, smooth and moreish with tropical and floral notes. Fresh and harmonic with a characteristic almond back-taste.
Rose and Prosecco
Folie d'Inès IGP Oc, Languedoc-Roussillon, France – Vibrant, crisp and light rosé with citrus and red fruit aromas, wonderfully refreshing Grenache which  goes down extremely well as an aperitif.
Belstar Prosecco NV, Veneto, Italy – very popular with. Fresh apple and pear aromas with a hint of blossom. Medium-bodied with citrus fruit, creamy mousse and a fresh, clean finish. This sparkling wine is versatile and fun and can be enjoyed with appetizers or as an aperitif. (Available for purchase.)
Red
Cour des Dames Merlot, Languedoc-Roussillon, France – A really juicy and easy-drinking Merlot with a very deep rich colour, and lots of red berry, cherry and blackcurrant flavours combined with a touch of spice. An excellent match for rich dishes and cheese.
Gran Fabrica Gran Reserva, Spain -This mature, oak-aged, plush Spanish red has cherry, blackberry and violet flavours and a soft smooth vanilla finish. For even more flavour and impact it's even better after 24 hours being open.
 Le Versant Pinot Noir, Languedoc-Roussillon, France – new for us. Soft and fruity Pinot Noir packed with raspberry and notes of white flowers and citrus fruit complement the freshness and minerality from the limestone. Deliciously elegant with a long finish.
Combeval Grande Reserve Rouge, Languedoc-Rousillon Pays d'Herault, France – Ruby red in colour, there are a lot of lovely red fruits like raspberry and cassis with some spicy hints. It is smooth, round and full bodied on the fruity palate. A lovely easy-drinking wine. Bold on flavour but soft on tannin and weighing in at just 12%.
Chateau Vincens Origine Cahors Malbec, France  – Almost black in colour, this is a dark-hued, black plum and chocolate flavoured wine. It is powerful and very concentrated, densely tannic as well as fruity. There is a dusty texture, fine acidity and strong wood-spice flavours.