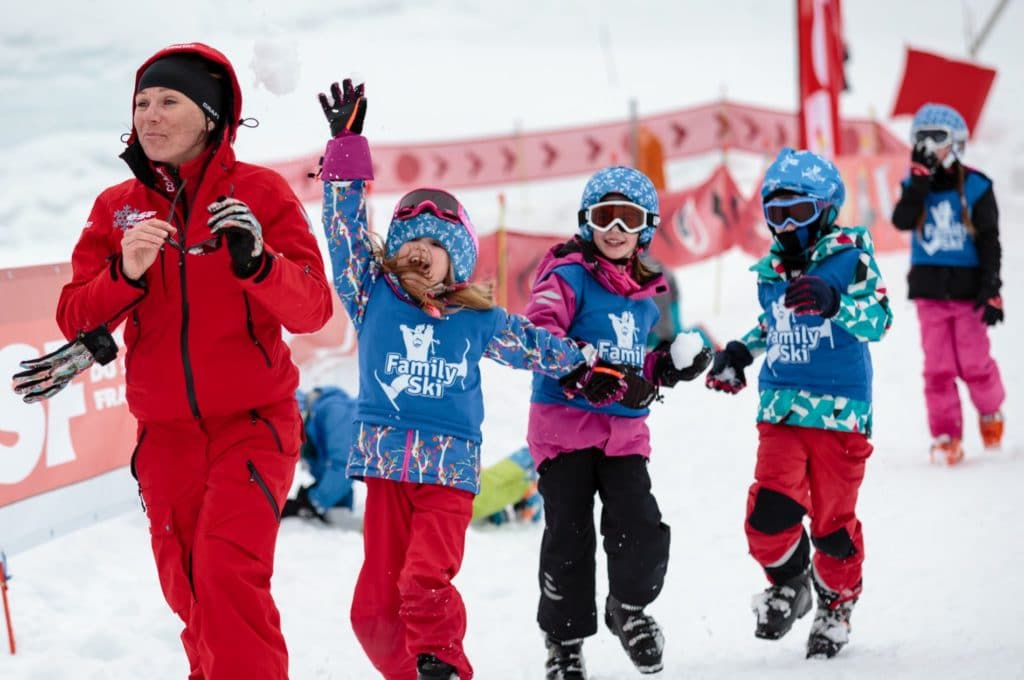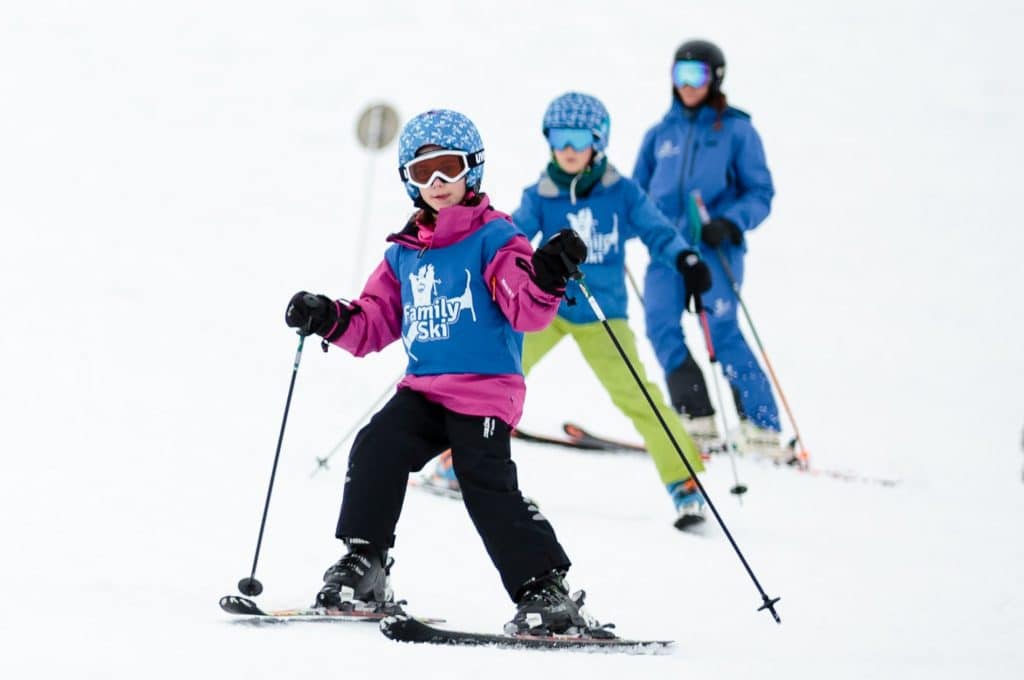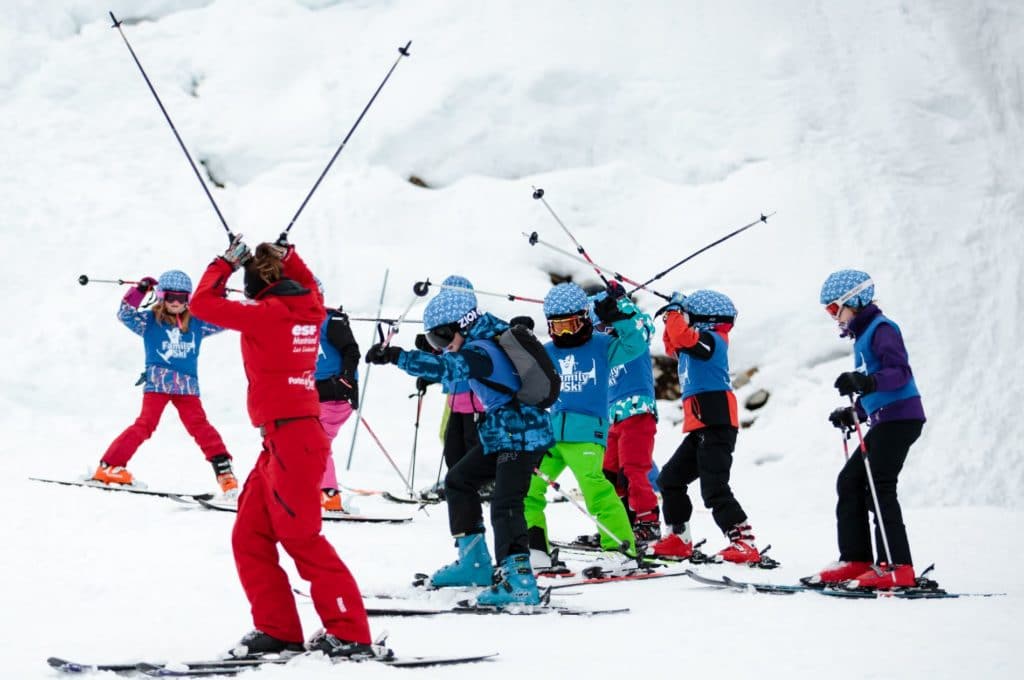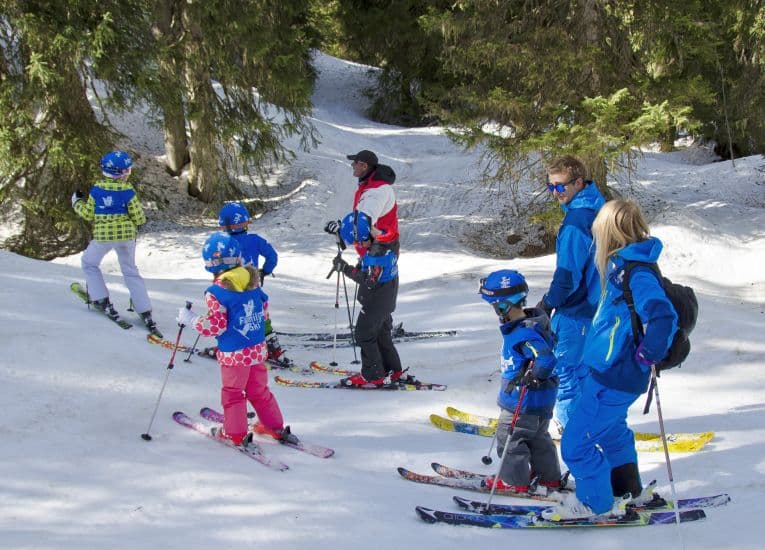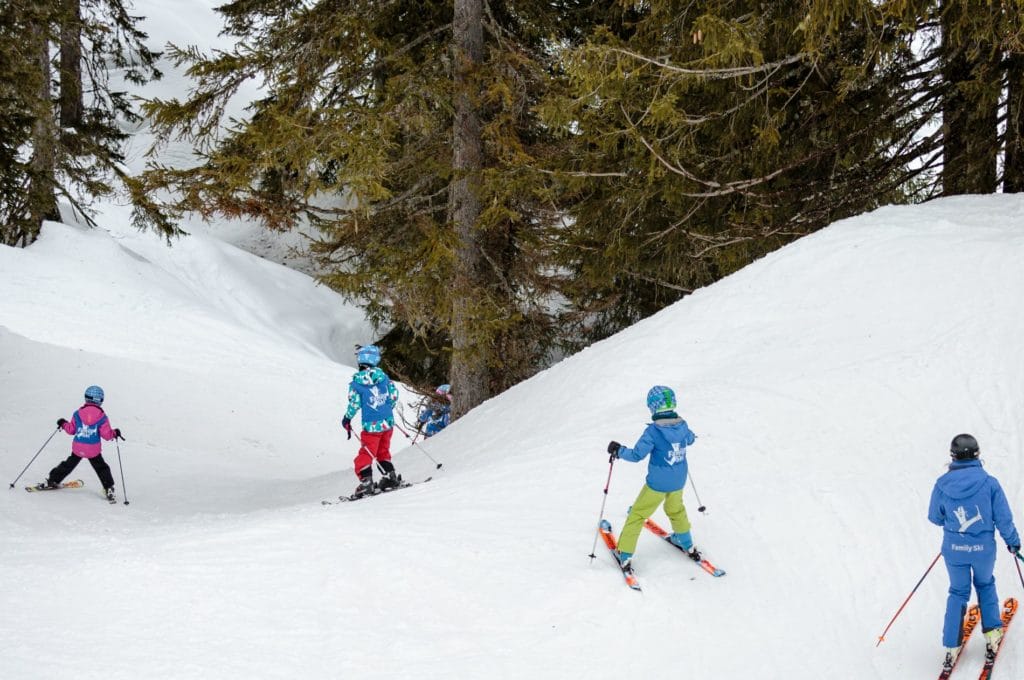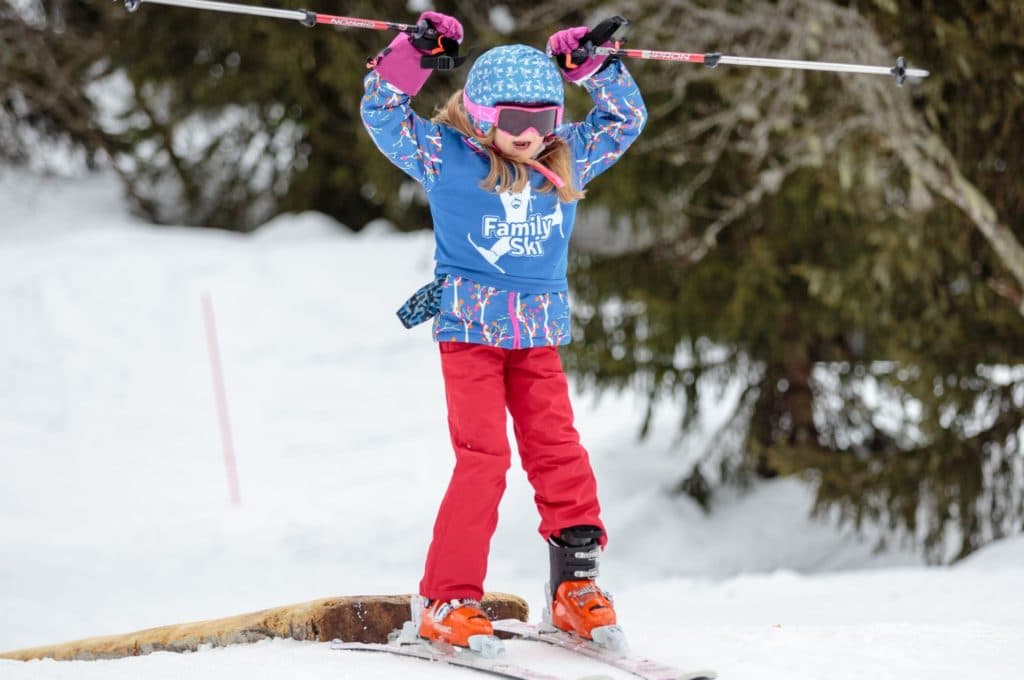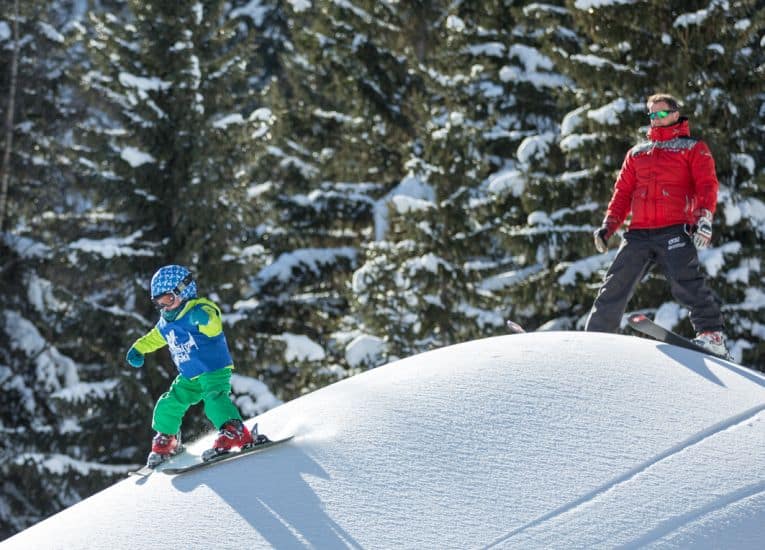 Children's Ski Lessons
Looking for children's ski lessons? Try the Family Ski way to get your kids skiing and have a great family holiday!  At the bottom of this page, you will find the all important ski level descriptions.
Ski school is extremely important for any family skiing with kids.  We want your children to develop the same passion for skiing that you have.  This is why we have forged very strong relationships with the ski schools in our resorts.  Thanks to these relationships, our Ski School Helpers are uniquely placed in the industry in being welcomed by the instructors to accompany Family Ski Company children during their lessons in the ski jardin.
Are your children aged 4-6?
Check out our Family Ski Powder Hounds club!
This club is for children who are ready to start skiing but don't want to spend the whole day on the slopes. This club is designed to give younger skiers lots of fun both in the snow and out of it.
Are your children aged between 7 and 13?
Checkout our Family Ski Adventurers club!
This club is for children of all abilities – from beginners to gold level, this club now includes six mornings of ski lessons, six hot lunches and all Adventurers will have three afternoons of fun adventurous skiing with children of a similar ability accompanied by a Ski Instructor.
Our Ski School Helper
An invaluable part of our childcare and a source of support and encouragement for the youngest children skiing for the first time.
See what makes Family Ski different.
Ski School
We use the École du Ski Français (ESF) in our three French resorts and collaborate closely with each resort ESF to ensure the best possible quality for our younger skiers. Each ski school is set up to welcome all children skiing from beginners upwards. The Ski School Helper is based in the Jardin de Neige (beginners' area) to support and encourage the youngest children skiing.
It is important to reserve the correct lessons for children so they can settle in and enjoy their skiing.  Please expand the blue lines at the bottom of this page for more information on each level.  You will need to  provide us with which level your child needs to be booked into, up to 2 weeks prior to your holiday.  We share this information with the instructors, however, the instructor will evaluate children's skiing during the first lesson and may move them up or down a group as appropriate.
During peak school holiday weeks, children's ski lessons may be moved from the morning to the afternoon in Les Coches and Reberty, on the advice of the ESF ski school. This is to ensure that the correct ratio of children to instructors is respected, and children have the best possible experience in their lessons. In this instance, our normal afternoon childcare activities take place in the morning.
Please note that with the ESF, a child aged 14 years old at the time of the holiday will be classed as an adult and will require adult lessons.
Children skiing – What to bring
On your first evening in resort, members of the Childcare team will come and say Hi to you.  They will be able to go through logistics in more detail and can answer any questions you may have.  Before taking your children to meet their instructors in the morning, please ensure they have everything they need. For those new to skiing, please be aware that getting dressed for skiing, putting on boots, and finding skis can take much longer than you think!  Here are some top tips:
Make a toilet stop before leaving the chalet
Dress in enough layers to keep warm
Put on suncream before leaving the chalet
Make sure children skiing have gloves, sunglasses or goggles and a helmet
Check for lift pass, tissues and the all important snack for break time
ESF (Ski School) Class Guide
The information below is a guide for parents who are unsure which level their young skiers have already attained.
It should be noted that the recommended minimum age for ski classes is there as a guide for children's safety and well-being. Please also note on occasion the more advanced lessons may not run if there are insufficient children for these classes.
We do not offer snowboard lessons in France as lesson timings do not fit in with our childcare clubs.
ESF Class: TEAM ETOILE - Team Star - Previously Bronze or Gold star
Previously split into Bronze and Gold, these are now one group "Team Star" that are split into 3 levels in resort based on skill (bronze, silver and gold)
Ski level: Children should have their 3 Star badge, be able to link parallel turns, perform slalom turns on steep slopes; do small jumps and ski any terrain.=
Children in Bronze Silver or Gold classes may be taught together but can still be tested for different badges at the end of the week.
Ski School Helper Participation: No
ESF Class: 3ème Etoile (3 star)
Ski level: This is for children who have their 2 star badge or children who are perfecting parallel turns and learning basics of slalom skiing.
What you'll do by the end of the week:
Knit together several more wider turns between poles, with parallel skis.
Master their balance in a schuss (going straight down the slope) on several types of terrain: like bumps and hollows.
Gain speed then brake by skidding.
Make parallel quick slides of skids on the side, interspersed with direct descents.
Ski School Helper Participation: No
ESF Class: 2ème Etoile (2 star)
Ski level: This is the class for children who have their 1 star badge or children who can snowplough turn on blue runs and are starting to parallel turn.
What you'll do by the end of the week:
Go through hollow or bumpy passages, facing downhill or across, while remaining balanced.
Take the skater's step, that is, advance on a flat track by pushing on the left leg then on the right leg.
Knit together around ten turns on a blue slope, with parallel skis.
Knowing how to take turns with a rounded skid.
Ski School Helper Participation: No
ESF Class: 1ère Etoile (1 star)
Ski level: Children who have their Flocon badge or children who can already snowplough turn and traverse on a green/blue piste.
What you'll do by the end of the week:
Glide on light to medium slopes and keep balance.
Descend in a straight line on a slight slope and take small steps to turn.
Make several simple turns by skidding (rounded or slanted), and of course by paying attention to what is happening around them (other skiers, the terrain of the slopes).
Ski School Helper Participation: No
ESF Class: Flocon
Ski level: This class is for children who have already done their Ourson badge or children who can perform basic snowplough turns
What you'll do by the end of the week:
Knit 7 to 8 turns with the skis in snowplough and put their skis parallel to go down the slope.
Descend across the slope, in a more or less straight line.
Stay balanced on their skis while doing small jumps, or skiing from one foot to the other, or even over a small bump.
Ski School Helper: Participation: Occasionally
ESF Class: Ourson
Ski level:  Children who have already skied at Club Piou-Piou, or are just discovering skiing at any age.
What you'll do by the end of the week:
A snaking line of snowplough turns
Be able to complete an easy Nordic type course.
Slide with the skis parallel, facing the slope, and stop with a snowplow turn.
Be able to follow your parents on green slopes
Ski School Helper Participation: Yes
ESF Class: Piou-Piou
Ski level: Children aged 4 who have never skied before.
What you'll do by the end of the week: Learn to Move on flat ground and slide facing the slope. Learn to descend the slope by doing the snowplow with my skis. Learning to plow turns, left and right. Use their first Ski Lifts.
Ski School Helper Participation: Yes