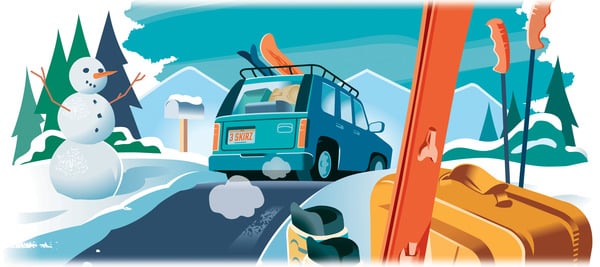 Ski Jacket: This needs to be a ski jacket and not just a waterproof jacket. Remember it can get very cold in the mountains
Ski trousers: These need be be warm and waterproof, beginners especially may spend a lot of time falling over onto the snow.
Leggings or tights: These are good to pack and have for those really cold days.
Base layers: This is a really important layer to keep you warm by wicking moisture away from your body. Do not use a cotton t-shirt as a base layer, you will be very cold.
Mid layer: A good fabric for a mid layer is a micro fleece, you may not need to wear this everyday.
Helmet: If you are a beginner and want to wear a helmet but don't want to buy one, you can hire one in resort.
Hat: Regardless of choosing a hat or a helmet for skiing, you will want to take with you to wear when you are doing non skiing activities. Make sure you get one that covers your ears.
Gloves or mittens for skiing x 2 pairs: It's personal choice what you prefer to wear. Gloves are easier for dealing with fiddly ski boots and using all your fingers and mittens can sometimes keep hands warmer but are not always as practical. It is highly recommend that you take 2 pairs of ski gloves in case one pair gets very wet and needs to dry, you will have a dry pair for the next day and then alternate between the pairs.
Gloves or mittens for après-ski: If you don't want to wear bulky ski gloves when not skiing then pack a pair of warm gloves with you.
Glove liners: These are not essential but a lot of people swear by them as a combination of a good ski glove and ski liner can keep your hands extra warm and a bonus is that when you remove your ski gloves you have another pair of gloves on so your hands won't be terribly cold.
Ski socks: It is worth investing in some good pairs of ski socks to keep your feet and toes warm, cotton socks are not recommended for skiing, they absorb moisture and your feet will get cold.
Sunglasses: Even if you ski wearing goggles, packing a pair of sunglasses is useful as you may want to wear them when you stop for a spot of lunch and if the sun is still out when you finish skiing for the day.
Goggles: If you ski wearing a helmet, goggles fit on top of your helmet and are the best thing to wear in bad skiing conditions, especially when it is snowing and in low light. Sunglasses don't work when it's snowing, so don't even try!
Neck warmer: A neck warmer is great for keeping that bit between the top of your jacket and your face warm, and the lower part of your face if you pull it up. You wouldn't believe how cold your neck and face can get, especially when it's snowing and when you are sat on a chair lift.
Balaclava: More of another optional extra layer to keep your head, neck and face warm when it is really very cold.
Tissues in individual packs/handkerchiefs: If you haven't skied before, don't underestimate how much your nose can and will run when skiing. Individual packs of tissues are great to stick in one of your many pockets. If you do own a handkerchief that is even better as it won't disintegrate like a tissue will.
Sunscreen: You can buy ski specific sunscreen, but regular sunscreen of a high UVB and SPF factor like 30 or 50 will be just fine. A good idea is to buy a small tube so you can take it with you on the slopes to reapply it through the day. If you opt for a ski sunscreen, you can get handy small tubes with a lip balm on one end.
Lip balm: The cold will make your lips very dry so it's a good idea to have lip balm on you that you can reapply throughout the day.
Camera: Don't forget to pack your camera so you can capture great holiday shots. Why don't you take your selfie stick too!
Insurance: The last thing you want to think about is having an accident on the slopes, but sadly they are a reality and you must have valid insurance for winter sports. Your insurance will also cover you for any inconveniences or cancellations of flights.
Pre-booked equipment: If you have pre-booked equipment, remember to print and pack your confirmation to take with you to the ski hire shop in case you are not sure what you chose.
Ibuprofen/paracetamol: It is a good idea to take painkillers with you.
Deep heat: If you know you are prone to aches and pains, taking deep heat with you is wise as it will help at the end of your day skiing.
Wrist guards: If you are really afraid of breaking your wrists then by all means pack them!
Hip flask filled with your favourite tipple: Now this is a great thing to have with you on the slopes. Your options of what to fill your flask with are endless, cheers!
Don't forget your non skiing essentials:
Slippers: Take your favourite slippers with you and be extra cosy in your chalet.
Clothes: Remember that there will be times when you are not skiing and you need 'normal' clothes!
Any supports you need to wear when exercising: If you wear supports for exercising it would be a good idea to also wear these when skiing.
Phone/Camera/Gadget chargers: Don't forget a charger for each of your gadgets, you wouldn't want to miss out on taking a great shot because you couldn't charge your camera.
Contact lenses and contact lense solution: If you wear contact lenses these are better to wear than glasses when skiing.
Snow boots/winter boots: Boots you can wear to walk on snow and sometimes ice without slipping. Trainers are really not any good on snow and ice and the last thing you want is to fall over and hurt yourself during your ski holiday.
Swimwear: Most of our chalets have a hot tub and you wouldn't want to arrive and not be able to get in because you forgot your swimwear! Or you may want to go for a swim in one of the resort's swimming local or nearby pools.
Pyjamas: So easy to forget! If you are in a shared chalet with other families it's probably best to have some PJ's!
Plug adapter for French plugs: If you forget this then you won't be using your phone or gadgets much!
What to take if you have room in your suitcase:
Your own ski boots: If you own them and have room for them you may aswell take them! Remember you can hire skis and wear your own boots.
Your own skis: Same applies to your skis, if you own them and have room for them, you may aswell take them and if you don't own your own boots you can hire those and still use your own skis.
Walkie talkies: These are really useful when skiing to contact one another without using your mobile phone.
Small rucksack: If you are confident skiing with a small lightweight rucksack it is really useful to put some essentials in: water, sunscreen, lip balm, snacks, hat, gloves, phone, wallet etc
MP3 player: Some people like skiing listening to music, but it is not the safest thing to do as you will not hear other skiers around you as clearly. Or you may just want an MP3 player for when you are chilling out in your chalet.
Snacks: Skiing makes you really really hungry, and even after a big breakfast you may want a snack before lunchtime. You will love having a cereal or chocolate bar with you on the slopes.
Hand warmers: Disposable hand warmers are designed to keep hands warm whilst skiing (or doing other activities). Ideal to place inside your gloves or pockets to keep your hands warm.
The Technical stuff on ski equipment (not skis or boots) – An in depth description of the items to pack.
So you've booked your skiing holiday, and the time has come to pack and you suddenly think: what do I need? Top of the list is warm clothes, waterproofs and lots of layers. You will probably start packing a few days before you leave and the weather in the alps can change so quickly there is no way of knowing for sure if you will have bright sunshine everyday or snow or a mixture of both, so your best bet is to be prepared for all eventualities. And remember that one day you could be skiing without a cloud in the sky and the next day you won't be able to see 1 metre in front of you. So, the best thing to do is to pack lots of layers so that on the sunny day you just put one layer on and the colder day you can put several layers on.
BACKPACK – To backpack or not to backpack that is the question! If you are comfortable skiing with a backpack it is not a bad idea to pack a light one, although it is not recommended for beginners as it affects your balance and posture. It is great to have on days when you are not sure what to wear, put extra layers in your backpack. On that note it's important to remember that the weather can also change a lot during the day, not just from day to day and a backpack is great to have if you do ski with your children so you can put extra clothing in for them and some snacks and water.
SKI TROUSERS – But back to basics, what are salopettes? Salopettes, ski trousers and ski pants are all trousers that are worn for skiing. Traditionally salopettes would have a high waist with a bib that braces can be attached to whilst ski trousers stop at the waist but can also have braces. Braces can be frustrating if they slide down the sides of your arms and they make going to the toilet such a hassle (remember that when buying ski trousers for your children: NO BRACES), but they do have the benefits of keeping snow from getting in if you fall over and keeping your trousers up! Whatever you go for, they need to be comfortable when standing and sitting down as you will spend a lot of time going up chair lifts, just something to bear in mind when trying them on.
SKI JACKET – Bottoms are sorted, so what do you wear on top? It is essential to have a ski/snowboarding jacket and not just a waterproof coat. They all come with different amounts of pockets and weird and wonderful extras like a secure place for your lift pass, somewhere to put your ipod and a snow skirt (this is an extra piece of material with elasticated edge and snaps on the inside of a ski jacket that can be fastened to prevent snow from entering at the bottom of the jacket. It acts as an additional barrier against wet or powdery snow, stopping you getting damp while out skiing. Snow skirts can be integrated into the jacket or detachable). Choosing the right Ski Jacket really depends on weather conditions, your level of ability, your budget and your personal preference in terms of style, fit and colour. It is worth going into a specialist store and trying them on, you need it to be comfortable and remember you may be wearing a few layers of clothing underneath so make sure it's not too snug. Different types of insulated ski jackets include down Ski Jackets or synthetically insulated ski jackets and like many things, what you choose depends on how much you are prepared to spend.BASE/THERMAL LAYER – Underneath your ski jacket you may want to wear one or 2 layers, depending on the weather. Let us explain the difference between a thermal top and a base layer: A thermal top is essentially the same as a base layer but designed more for winter sports and activity. The thermal properties means they are better at keeping your body warm, as well as wicking away sweat so that you don't overheat. Base layers are the equivalent for warmer conditions as they are often more lightweight. Choosing the right layers when on the slopes or taking part in any outdoor activity is crucial. A good base layer is necessary for maintaining the right body temperature and will wick away moisture (often caused by sweat) from the skin to stop dampness and you getting cold. A base layer can refer to both tops and bottoms, so it may we be wise to also have a bottom base or thermal layer for those extra cold days. Different types of fabrics work in different ways to keep your body at the optimum temperature when out in the cold. Synthetic fabrics and merino wool are the most common fabrics used for base layers. Cotton is unsuitable for a technical base layer as the fabric soaks up moisture and draws heat away from the body leaving the wearer cold and uncomfortable. Got it? Cotton is a no no!
Ok so how do I choose? It all really depends on how much you want to spend. If you know it will be cold and you are happy to splash out then you can't go wrong with Merino Wool, but if your skin is sensitive to wearing wool or you just don't like the feel of it, you can get Bamboo base layers that are a relatively new invention made from bamboo extracts sometimes combined with cotton, Lycra and even merino wool or your cheapest option is polyester and polyester blend tops. A bonus of wearing merino wool is that it is naturally antibacterial, it keeps skin dry and can be worn for longer periods of time without smelling too bad. They have natural UV resistance which is ideal for cold but sunny ski resorts. One the best thing about merino base layers is that they retain heat and their thermal properties even when wet. Great if you get snow up your jacket from a fall!They can easily be used for a week long ski break, giving you even more space in your case.
HELMET – The majority of people now choose to ski with a helmet. You have different options here again, go and buy your own or hire one in the ski resort, you choose. It you choose to buy a helmet the fit will be much better as you have been able to try various options on beforehand and it's a good idea to try the helmet on with the goggles you will be wearing. With a rented ski helmet it is impossible to know how well the helmet has been looked after and if it has been worn in an accident. If a ski helmet has been knocked and damaged, it will not be effective at protecting your head should you fall. Lastly, rented ski helmets will be worn by various people and although they might wear a skull cap the idea of someone else sweating in your helmet isn't appealing to most people! Helmets not only protect you if you have an accident but also keep your head nice and warm.
Getting the right fit for your ski helmet is the most important factor when buying a helmet. A good fit is vital for your safety on the slope and comfort all day long. A helmet should be a snug fit and fully cover the forehead. Helmet sizes are measured in centimetres and you need to know the circumference around your head. You can use a tape measure to calculate the circumference of your head about 1inch/2.5cm above your ears and eyebrows ( if you don't have a tape measure just use a piece of string to wrap around your head then measure that). A ski helmet should cover your forehead, finishing just above the eyebrows and your goggles. Most ski helmets have a 'fine tuning' adjustment system allowing you to get a perfect fit. Adjust your helmet to a close, but comfortable fit. Finally you should adjust the chin strap, so it comfortably fits under your chin. To check you have a good fit do the 'shake test'. If you give your head a shake your helmet shouldn't budge. Put your palm on the outside of your helmet and push your helmet from side to side – again your helmet should not shift about on its own. If it does, your helmet is too big. You are looking for a snug, comfortable fit.
There are two main types of helmets:
Full shell helmets have shell protection over ears and tend to be worn by ski racers
Half shell ski helmets are the most popular style of helmets. They provide a great combination of safety and comfort.
All helmets will have some level of venting, to allow excess heat and moisture to escape. Some helmets also offer 'adjustable vents' which allow the user to increase/decrease the vents, to control airflow through the helmet. This gives an extra level of temperature control and comfort.
HAT -If you choose to wear a hat make sure you have one that covers your ears. It is a really good idea to pack a hat even if you ski with a helmet so that when you stop for lunch or when you undertake non skiing activities you can keep your head warm.
GLOVES – Gloves are a must have and can be one of the most difficult items to get right, but having a pair of gloves that fit well and keep your hands dry and warm even on the coldest days is invaluable. But what do you go for, gloves or mittens? Ski gloves (with fingers) are ideal for skiers who need to use their fingers to adjust things, say your boots or clothing (or to help your children). Ski Mittens can potentially be a better option if you do get very cold hands. As there are no fingers, you can clench your fist to increase hand heat. But mittens make holding ski poles a little trickier.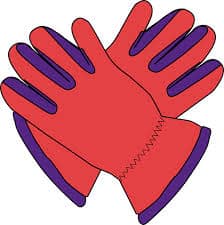 How to Choose Ski Gloves
Ski Gloves are essential when taking part in any snow sports as you tend to lose heat quickly from your extremities. The last thing you want on a ski trip is very cold hands and numb fingers! It is important that you pick the right ski gloves for your activity to offer maximum warmth, comfort and flexibility. Some key features to look out for include:
Adjustable cuffs & wrist loops. These allow you to secure your gloves so snow does not enter from the cuff. A quick stop adjuster (toggle) allows you to pull your gloves tight and close with one pull. Wrist loops are handy for attaching the gloves or mittens to your wrists when you take them off. Makes them harder to lose, and you really don't want that to happen!
Heat vents improve breathability but also allow you to breathe hot air into your gloves for times when your hands need an instant hit of warmth.
Textured palm and fingertips – The fabric in these areas can be reinforced to give extra grip for holding poles or ski lifts.
Goggle Wipe – A rubberised plastic piece that you use to clear water and snow from your goggles.
Nose Wipe – A softer fabric on the glove which you can use to wipe your nose if it gets a bit runny!
Fleece Lining- Fleece lined for added warmth.
Snowproof ski gloves means that fabric is treated with a waterproof coating to make fabric water resistant, but this does not make the glove fully waterproof. This type of glove would be best for dry conditions, and for those who won't have as much contact with the snow, i.e. skiers or more intermediate snow sport enthusiasts. These could also be used for keeping your hands warm on winter walks.
Waterproof Ski Gloves are made with snowproof fabric and combine an additional waterproof membrane inside the glove.
Insulation is really important to create and maintain the right temperature. You can get gloves that have a padded insulation layer to help retain heat as well as a soft fleece lining inner for warmth and breathability.
One last bit about gloves (who would have thought there was so much to know about gloves!) You can just wear your ski gloves when out on the slopes, however a pair of glove liners underneath can provide extra protection from the cold and wet. Ideally you want your liners to be lightweight and breathable. A pair of silk gloves are a good choice as they provide warmth without making your hands too hot. Some great things to know about silk are that the natural fibres regulate the temperature of your hands and silk gloves will also maintain thermal properties even when wet. If you have a pair of snowproof gloves on these could offer the ideal layer to stop your hands getting too cold or wet.
Ok, this is really the last bit about gloves! Most people now have a mobile phone and will take it with them when skiing. If this is the case for you, then a pair of touchscreen liner gloves will keep your digits extra toasty inside your ski gloves and still let you use your phone when you take your gloves off, awesome right? A less bulky liner is also great when you leave the slopes and head for a coffee or drive home and you still need to keep your hands warm, this way you don't need to have another pair of non-skiing gloves with you all day.
GOGGLES/SUNGLASSES – Goggles vs sunglasses: whatever you choose, they are absolutely essential for protecting your eyes from the sun and snow glare. At high altitude UV rays are stronger (as there is less atmosphere to filter them) and the sun's reflection off the snow is much brighter. Ski goggles and sunglasses also provide protection from falling snow and wind when whizzing down the slopes.
Sunglasses are well suited if it is sunny and the conditions are good. Goggles will however provide better coverage all round protecting your eyes from the wind as well as bright light. If it is cloudy, foggy or snowy goggles will offer better protection than sunglasses. Goggles also cover a bigger area of your face than sunglasses, so when it's cold, they protect your face much more.
Goggles fit over the helmet, so if you are wearing a helmet, go for goggles as they will be much more comfortable. All that will happen if you wear sunglasses under a helmet is that the sides of the glasses will dig into your head and that is not very nice. You can get goggles with different lenses to suit different levels of visibility.
The choice between wearing ski goggles or sunglasses for skiing will more often than not depend on the conditions. For this reason we would recommended that you always take goggles on a ski trip so you are prepared for all conditions. Whether you pack sunglasses as well will be a matter of personal preference. Many skiers like to wear sunglasses when the weather is fair and switch to ski goggles if the conditions deteriorate (it is a good idea to carry both with you as weather conditions can change quickly and frequently, see how the backpack comes in handy!)
What to look for when choosing goggles:
UV Protection: Try to choose ski goggles or sunglasses with a minimum filter category of 3 to ensure your eyes are suitably protected on the slopes. A filter category of 2 is suitable for kids as a filter category 3 can impede their vision in low light.
Polarised lenses will reduce the glare from light reflected from the surface of the snow, whilst increasing contrast. This prevents your vision from being strained and impaired. Polarised lenses may not be suitable for use in low light as they can make things appear darker than they are.
The colour of the lens also needs to be taken into consideration. Dark lenses, such as grey, dark brown or mirrored, are best for bright, sunny conditions. Pink, yellow or green lens are suited for days where there is poor visibility. Amber lenses are particularly helpful for depth perception, making bumps and different surfaces easier to distinguish.
Goggle lenses can be cylindrical or spherical. A spherical, or curved, lens will provide better peripheral vision and mean less distortion. Goggles with spherical lenses will often be more expensive than those with cylindrical lenses.
If you wear contact lenses you may find that sunglasses do not offer enough protection to prevent your lenses from drying out. If you wear vision glasses, it may be worth getting ski goggles that are a size bigger so you can wear your glasses underneath whilst still offering you protection from the sun.
Why do goggles fog up? Condensation can occur as warm air from your breath condenses on the colder surface of goggles and sunglasses. Sunglasses will tend to fog up more than goggles. Goggles will have a ventilated frame which means there's an air vent at the top and bottom of the frames to allow air to flow through. Ventilated frames and anti-fog treatment will help prevent the lenses from fogging up. Double layered lenses act as another barrier to internal fogging. If ski goggles are fitted correctly they should not fog up. Make sure they fit tightly to your face and the vents at the top of the goggles are not blocked by headwear like hats and snoods.
NECKWARMER/BALACLAVA – Neckwarmers are great to seal the gap between your jacket and neck, especially in a blizzard or very windy conditions as the snow or cold could sneak in. It is also great to have for your chairlift rides when you often get the coldest. There is a big range of fabrics, the fleece ones are extra soft and warm. You could think about taking a balaclava that goes over your head and covers a bigger area of your face.
SOCKS – So we have talked about keeping your hands nice and warm, but don't forget to keep your feet warm. It is a huge misconception to think that your feet will stay warm in ski boots. Ski socks are designed for skiing so they are a really good investment. Ski socks( also known as tubes) are usually long in length with some padding on the heel and shins for added comfort inside your ski boots. Ski socks come in a variety of thicknesses so if you do not necessarily want a really thick pair there will still be a pair to suit you. Cotton socks are not recommended for skiing. When your feet get hot, which they will when you're working hard on the slopes, they will soak up all the moisture and retain it, making your feet cold and that is last thing you want when skiing.
And 'voila', hopefully this will make your packing easier!