When choosing the best way to get to the Alps with your family, travelling by rail may be an option. Why not combine it with an overnight stay in Paris on Saturday night, to break up the journey. 
This could be a very nice way to start your family holiday, and it has the added advantage that you can arrive earlier in your resort on Sunday, to make the most of your time in the Alps.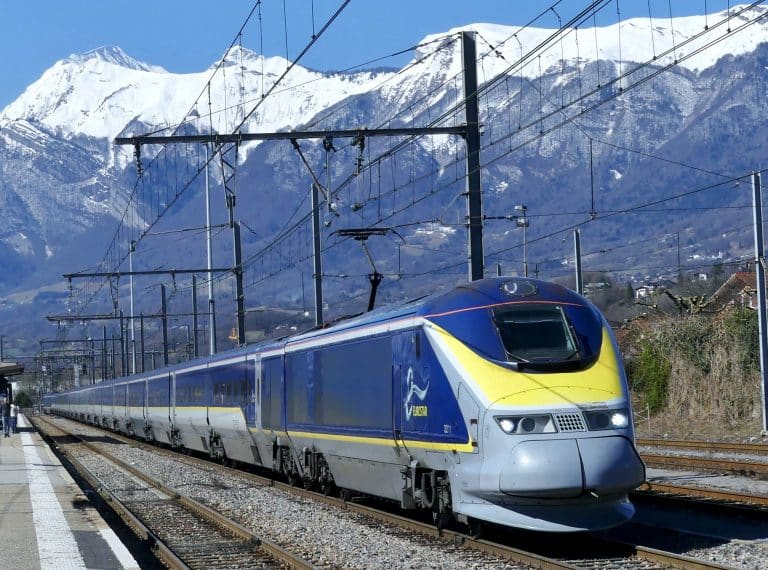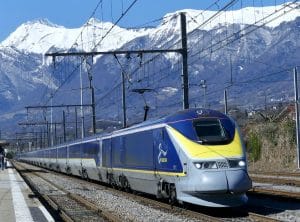 Advantages of travelling by train:
You can relax, watch the countryside roll past, and arrive feeling fresh

No extra charges for skis/snowboards or for extra luggage

Possibility of including an overnight stay in Paris on the way out

Under 4's can travel free though they aren't allocated a seat. 

For children up to the age of 11, there is a discounted child fare

Very short transfer times
(Train timetables will be published around October half term for the coming season, however from experience they are always within +/- 7 minutes of previous years)
Getting there
Jump on the Eurostar from London St Pancras to Paris, Gare du Nord. Eurostar has trains nearly every hour on Saturdays and Sundays.  The most popular service departs at around 8am, arriving in Paris Gare Nord at around 11:17am.
If you are travelling in one day, allow an hour for the change from Gare du Nord to Gare du Lyon. To speed things up, you can buy the RER metro tickets from the bar on the Eurostar.
We recommend an overnight stay in Paris on Saturday night, and then catching one of the Sunday morning trains from Paris Gare du Lyon.
Watch a video here for further details on changing stations in Paris.
For Reberty and Les Coches
TGV trains depart at around 7am, 8am, 9am, arriving in Moutiers (for Reberty) around 12.30pm, 13:30pm and 14:30pm. The train continues on to Bourg St Maurice (for Les Coches).  
The stations are close to our resorts, resulting in a much shorter transfer to your chalet, approx 45 mins from Moutiers to Reberty and 20 minutes from Bourg St Maurice to Les Coches.
For Ardent 
Take the TGV from Paris Gare du Lyon to Geneva. The train departing at around 08:15 is fast, arriving at around 11.30am. Departures every 2 hours thereafter. 
You will need to catch an additional train or Uber to Geneva Airport. Then make your way to the Airport Arrivals hall (nearby) where you can catch one of our included transfers to the resort. Your train needs to arrive by 4pm, in order to make our last transfer at 5pm. Geneva to Ardent is 1.5 hours.
Why We Don't Recommend the Overnight Train Service
When looking into rail journeys to the mountains, you will also notice that there is an overnight train service. For families with young children we wouldn't recommend this route for a couple of important reasons. 
Firstly, there aren't any beds or couchettes; the seats recline slightly but you won't manage to get a good night's sleep. Not an ideal start to your week in the snow. 
Secondly you will arrive in France very early in the morning – about 6am. We can't offer you transfers to resorts this early, and we can't even make you welcome in your chalet because the previous week's guests may still be there, probably enjoying breakfast before they head home.
Returning from the Alps to London St Pancras
Our free transfers can get you back to the same stations for trains departing on Sundays after 8am and before 5pm. 
There are direct trains to Paris, and then you change stations from Gare du Lyon to Gare du Nord to catch the Eurostar back to London.
To book your trains we suggest you contact Fas from Trains Europe, he is really helpful and his contact details are: 
Site: trainseurope.co.uk   Email:  fas@trainseurope.co.uk   Tel:  01354 660222
Or you can contact Oui SNCF or Eurostar for more details.
Please click here for more info on our free transfer service to and from these stations.
We recommend allowing at least an hour and a half to two hours to change between trains at Paris Gare du Nord and Paris Gare du Lyon, which is about 20 minutes on the metro or about 20-25 minutes by Uber.